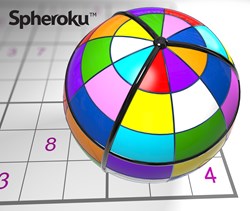 Port Orange, Florida (PRWEB) September 12, 2013
3d Department announced today the Google Play Store release of the Android version of Spheroku™. This new mobile game combines the logic of Sudoku with a three-dimensional experience reminiscent of the Rubik's cube puzzle. The game is free to install and it contains four puzzles, one for each of four difficulty settings. Additional puzzles can be purchased from within the app and are available in four packs, one for each difficulty category. Additionally, each one contains 100 games! The packs are priced at $1.99 each. A set of all 400 games in a single pack for $3.99 is also available. (Taxes, if any, are not included.)
A preview version of the game, under the name Spheroku™, is also available online at http://www.spheroku.com or on Spheroku's Facebook page https://www.facebook.com/Spheroku.
Spheroku™ opens a revolutionary new chapter in the evolution of the Sudoku puzzle, one that is much more dynamic, active, and fun. Although it uses the same rules as the classical Sudoku, in which each of the nine columns, nine rows, and nine blocks contains nine elements that can't be repeated, Spheroku™ feels like a completely new game since its grid is mapped onto a sphere and the numbers are substituted with colors. In addition to the logic and observational skills required to solve Sudoku games, Spheroku™ forces the player to use movement, spatial coordination, and memory to successfully solve the puzzle. This new game promises to re-energize the Sudoku world and give millions of existing Sudoku players a brand new way to enjoy their favorite pastime.
Early indications from the feedback supplied by users of the Spheroku™ pre-release versions suggest that this new game also has the potential to engage new people in enjoying the brain workout benefits for which Sudoku is renowned among mental health professionals. While people often associate Sudoku with math, the use of colors in Spheroku™, coupled with its 3d interface, promises a much more fun and much less intimidating game.
The Sudoku puzzle originated in the United States, was popularized in Japan, and became a worldwide phenomenon in 2006. It is printed in crossword puzzle sections of many newspapers and magazines around the world.
3d Department was founded by Pawel Bodytko, a veteran 3D artist and product designer. He has been closely associated with companies such as Sun & Skin Care Research, LLC; Alva-Amco Pharmacol Companies, Inc.; Fruit of the Earth, Inc.; and others. Over the years, Bodytko has been responsible for the design and conceptual work on many well-known sun-care brands, such as Ocean Potion®, No-Ad®, Jimmy Buffett's Margaritaville® Parrot Head™, Rite-Aid RX Suncare™, and Alva-Amco's pharmaceutical brands, such as Psoriasin®, FungiCure®, and Diurex®.
He is joined at 3d Department by his daughter, Alexandra Bodytko, who, in addition, to being involved in many other aspects of the game development, composed and produced the musical score used in the game. She is an active musician, often performing at Gloria Estefan's Bongos Cuban Cafe in downtown Disney World and in Universal Studios in Orlando, Florida, as well as other venues. Alexandra Bodytko plays tenor saxophone and holds a BM in Jazz Studies from the University of Central Florida.