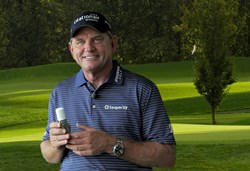 "I look forward to having lunch with the lucky winner and their guest."
(PRWEB) September 11, 2013
It is simple and easy to enter. All a contestant has to do is take a photo of themselves with any Pain Away product, including Golf Pain Away or Outback Lip Balm, then 'Like' Pain Away on Facebook and then send in the photo to facebook.com/golfpainaway. The public will vote on their favorite pictures, narrowing them down to the top 10 with the ultimate winner judged by Pain Away, LLC and Nick Price.
The top prize is an all expense trip for two to Florida to have lunch with Nick Price, followed by 18 holes of golf on a golf course co-designed by Nick Price. While there is only one grand prize, everyone who enters is a winner as every contestant will receive a free 7 day pack of Golf Pain Away.
Nick Price, World Golf Hall of Famer and 2013 President's Cup Captain, serves as Golf Pain Away's worldwide ambassador. "I'm thrilled to team up with Pain Away, LLC. for this unique and exciting contest," stated Price. "I look forward to having lunch with the lucky winner and their guest."
For further information, including complete rules and regulations, and to sign up, please visit facebook.com/golfpainaway. No purchase is necessary, but some restrictions do apply. Entrants must be 18 years or older.
Golf Pain Away and the Outback Series products use a unique blend of 100% natural ingredients from Australia where the formulation has been successfully used by millions of people who suffer from muscular aches, pains and joint discomfort. "I haven't enjoyed playing golf as much as I have enjoyed now playing pain free with Golf Pain Away. After using Golf Pain Away, I will never play golf without it again," added Price.
Pain Away, LLC, through its line of Golf Pain Away and Outback Series product lines, is suitable for users of all ages, provides topical pain relief for arthritis, neck and back pain, muscular aches and pains and golf and sports related injuries. Developed in Australia using ancient Aboriginal bush herbal formulations, Pain Away utilizes a proprietary triple maturation manufacturing process that blends four, all natural, ingredients with complementing therapeutic benefits.
Pain Away, LLC offers the only products in the world produced this way, providing subcutaneous delivery of anti-inflammatory and analgesic properties. World Golf Hall of Famer and 2013 President's Cup Captain Nick Price serves as Golf Pain Away's worldwide ambassador. The Outback Series features protective lip balm comprised of two Australian tea tree oils and 2-In-1 protective sunscreen and insect repellant providing 30+ SPF protection targeted at sports enthusiasts. Golf Pain Away and the Outback Series is available at leading retailers, resorts and country clubs throughout the world. More information on Golf Pain Away can be found at http://www.golfpainaway.com or by calling 800-215-8739.