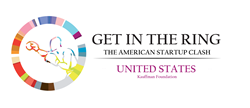 Kansas City, MO (PRWEB) September 12, 2013
From Alaska to Florida, Minnesota to Missouri and many points between, the founders of U.S. startups stand ready to give it their best shot at "Get in the Ring: The American Startup Clash." A total of 283 U.S. entrepreneurs looking to scale their startups applied to compete in Get in the Ring, and first-round judging to select up to 40 semifinalists is under way.
The international pitch competition comes to the United States for the first time this year as a showcase event of Global Entrepreneurship Week in November. Hosted by the Ewing Marion Kauffman Foundation and sponsored nationally by Sprint, the U.S. competition will culminate on Nov. 18 in Kansas City when eight finalists literally get in the (boxing) ring to convince a panel of judges that their startup is the best in the nation.
The U.S. entrepreneur deemed the top prospect in Kansas City will immediately travel all-expense-paid to the Nov. 22 Get in the Ring global finals in Rotterdam, the Netherlands. There, he or she will go head to head with seven other international finalists for a chance to secure angel investment of more than $1 million.
Get in the Ring was founded in 2009 by the Erasmus Centre for Entrepreneurship in the Netherlands to bring the world's most promising entrepreneurs together with those who can help them succeed and to inspire others to start their entrepreneurial journeys. In just five years, the competition has grown to include 30 nations. The international finals are held each November during Global Entrepreneurship Week (GEW).
For the U.S. competition, Combat Brands/Ringside Inc., a boxing equipment company in Lenexa, Kan., has joined as an event sponsor. Additionally, Kansas City PBS television station KCPT has come aboard as a media sponsor.
For more information about Get in the Ring: The American Startup Clash, including competition schedule, judges' bios and a list of partner organizations, visit http://www.kauffman.org/GITR.
About the Kauffman Foundation
The Ewing Marion Kauffman Foundation is a private, nonpartisan foundation that works with partners to advance entrepreneurship in America and improve the education of children and youth. Founded by late entrepreneur and philanthropist Ewing Marion Kauffman, the Foundation is based in Kansas City, Mo. For more information, visit http://www.kauffman.org, and follow the Foundation on http://www.twitter.com/kauffmanfdn and http://www.facebook.com/kauffmanfdn.
About Get in the Ring
For more information about the international competition of Get in the Ring, visit http://www.gitr.nl. Also follow Get in the Ring on Twitter @gitr_gew and Facebook/getinthering.gew.