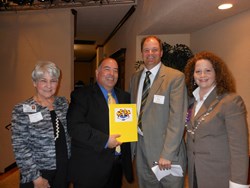 Cyfair ISD turns 75 and this year long celebration is designed to bring together the entire community for a day of fun.
Houston, TX (PRWEB) September 17, 2013
Cyfair Independent School District turns 75 years old next year and is planning a year long celebration with events planned throughout the year leading into a major event in April 2015 at the Berry Center complete with Food, Entertainment and Fireworks. This event will involve all the schools in the district with Cyfair High Schools competing in Drumline Competitions to the elementary schools working on highlighting remarkable people that helped Cyfair grow over the years. Northwest Dodge in its ongoing commitment to Cyfair ISD has agreed to be the primary underwriter for this event.
This event slated to be at the Berry Center will bring together both business and the school district to showcase the amazing accomplishments over the last 75 years of the Cyfair Independent School District which has grown to over 100,000 students and is the 3rd largest district in Texas. Mark Carruba, Community Outreach Director at Northwest Dodge, said, "We are still in the early planning stages but we want this event to bring together the entire Cyfair community for a day of fun and to support this growing community just west of Houston."