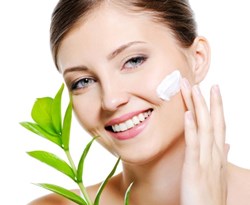 As seasons change, pamper summer-ravaged skin and prepare for fall with a luxurious anti-oxidant mask treatment.
St. Petersburg, FL (PRWEB) September 13, 2013
The seasons are changing and now is the time to prep and heal skin. The Pure Luxury Anti-Oxidant Mask from Sublime Beauty® is just what skin needs to heal, deeply moisturize and get ready for fall.
"This mask lives up to its name - it is very luxurious," says Kathy Heshelow, founder of Sublime Beauty®. "Skin drinks up the healing moisturizing elements of the mask, and French White Clay gently pulls out grime and old cells. Collagen, aloe, cucumber, vitamin E and more all make your skin feel incredibly good - and ready for cooler weather."
This mask is ideal for dry, normal and aging skin and the focus is on deep replenishment of moisture and hydration along with healing and protective aspects. The spa-quality mask feel decadent, and only takes about 15 minutes to use. Most men and women are very busy, so adding a treatment with this mask can fit into any schedule.
Simply smooth it on after cleansing face and neck; let it do its magic for 15 minutes; wipe off with a cloth and then rinse.
The mask is currently on sale.