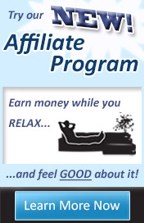 This a win-win opportunity. It's so easy and benefits everyone.
Atlanta, GA (PRWEB) September 12, 2013
The secret is out! Volunteer and nonprofit organizations, and students alike are spawning dual lucrative side-businesses by earning a percentage on sales of Feel Good Light Ups fluorescent lighting fixture covers through The Flag Company, Inc.'s Affiliate Program, as well as providing installation service for the covers.
Many are thwarted by replacing mundane fluorescent light covers in school offices, classrooms, medical offices, and business offices with the brighter decorative alternatives of a Feel Good Light Ups, because they simply lack such minimal equipment as a ladder to accomplish a quick replacement. However, enterprising students and the like need only set aside a bit of time, and equipped with a simple ladder, they can easily exchange the original fluorescent fixture cover with a Feel Good Light Ups light cover for a nominal fee. Coupled with an additional 10% earned from the sale through the Affiliate Program link on one's own website, participants realize this is no "small change."
"This is a win-win opportunity," says Mike Lawrence, Vice President of the The Flag Company, Inc. "It's so easy and benefits everyone. We get more exposure and sales through other businesses' or peoples' websites, and they earn a commission with little effort on their part. Now they can even augment their earnings by offering easy, simple installation as well."
Along with the easy sign-up process, participants in the program also benefit from:

Instant notification via e-mail of a sale through their account
A password protected page to check sales and update account information
A link to specific sections of the Feel Good Light Ups site or to the home page
Full technical support
A 30-day active cookie: customers have 30 days to make a purchase after linking to a member site
Commissions paid monthly once $25.00 is reached
Availability for website banners and graphics
The program is now also offered with a 5% commission on sales of flags and equipment from The Flag Company, Inc. Guaranteed to lift low spirits, Feel Good Light Ups light covers and wall art brighten cold fluorescent lighting and chase away the winter blues. Just a click away, discover how easy it is to cash in on the Affiliate Program.
About The Flag Company, Inc.
As the largest online flagpole supplier, The Flag Company, Inc. offers a complete range of flags and flag-related products in addition to its line of flagpoles and signature Flagpole Beacon. Custom screen-printing and digital printing are available for special events, corporate logos, etc. Stock merchandise includes U.S., state, international, and military flags, and all types of accessories such as bunting, memorial cases, pennants, and more. The Flag Company, Inc. is the nation's largest producer of message flags, offering over 300 different messages used by realtors, restaurants, car dealerships, and any other kind of company imaginable. Toothpick flags—both stock and custom-made to order— are also available. The complete product line can be viewed at http://www.flagco.com. "Feel Good Light-Ups," a decorative light lens for fluorescent light fixtures, are now so popular there is a dedicated website at http://www.feelgoodlightups.com. Flagpoles and Flagpole Beacons are featured at http://www.flagpolewarehouse.com. Toothpickflag.com has a wide selection of toothpick flags for any occasion, party or corporate event, with a custom department for that one-of-a-kind special design.