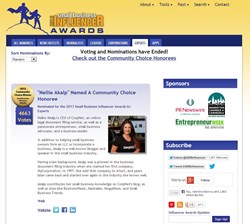 Westlake Village, CA (PRWEB) September 12, 2013
CorpNet.com, a leading online business document filing company that helps entrepreneurs start a business and keep a business in corporate compliance, today announced that both the company and its CEO, Nellie Akalp, have been named Community Choice Winners in the 2013 Small Business Influencer Awards.
This means that both CorpNet and Nellie Akalp placed within the top five in the popular votes in the Corporation and Expert categories respectively. The Community Choice is the first part of the Small Business Influencer Awards. The Top 100 Champions will be designated separately once the judges' votes are in, and will be based 40% on the popular vote and 60% on the judges' votes.
Through CorpNet, Nellie and her husband Philip Akalp have empowered thousands of entrepreneurs to start their own business. As an online legal document filing service, CorpNet helps small business owners form an LLC or incorporate a business in order to start and protect their new business ventures the right way.
"I'm honored and humbled to be recognized by the small business community. We are really fortunate for the tremendous amount of support we received and it's incredible that both CorpNet and I made it in the Top 5 for our categories. It's further validation that our entire team is on the right track with all our hard work to be champions for the small business owner," said Nellie Akalp.
A passionate entrepreneur, small business advocate, and mother of four children, Akalp was also named a 2012 Top 100 Small Business Influencer. She is a popular contributor for a variety of outlets including: Small Business Trends, Mashable, AMEX OPEN forum, Business Insider, and AllBusiness.com where she shares advice on starting, protecting, and managing a business and getting a business legal with incorporation tips.
CorpNet.com is known for its customer-centric philosophy, developing a range of free, value-add tools to help small business owners thrive in today's economy. CorpNet customers rave about the company's friendly, helpful service, including five-star CorpNet reviews on TrustLink.
The Small Business Influencer Awards honor companies, organizations, apps and people who have made a significant impact on the North American small business market. The Small Business Influencers initiative is jointly produced by Small Business Trends and Small Biz Technology. Winners will be announced on September 19 and honored at an awards gala in New York City on October 17.
View CorpNet's winning Influencer profile here: http://influencers.smallbiztrends.com/small-business-vendors-2013/corpnet-2/
View Nellie Akalp's winning Influencer profile here: http://influencers.smallbiztrends.com/small-business-experts-2013/akalp-nellie-1/
About CorpNet.com
CorpNet.com is an online business document filing service that provides new and existing business owners with the most comprehensive, cost-effective services when it comes to starting, protecting, and managing a business. Through its website, CorpNet.com provides business filing services required for a variety of business needs such as: incorporate online or form a Limited Liability Company (LLC), file a DBA, Doing Business in Multiple States (Foreign Qualifications), close a business (Dissolutions), Registered Agent Representations, Trademark Search and Registrations, and Corporate Compliance services and supplies for all 50 states.
Founded by experienced entrepreneur/attorney husband and wife team, Philip and Nellie Akalp, CorpNet.com is a private company based in Westlake Village, CA. For more information, please visit corpnet.com or follow @CorpNet on Twitter.