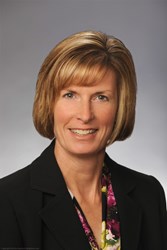 Wilmington, DE (PRWEB) September 12, 2013
Wilmington Trust hired Joanne Shaver, CPA, as captive account manager for the company's Captive Management Services division in Delaware. Shaver is part of a team of captive management professionals responsible for the design, implementation, formation, and ongoing management services required by captive insurance companies.
She is based in Wilmington and reports to Kirk Mooneyham, managing director of Captive Management Services, which is part of Wilmington Trust's Institutional Client Services division.
Prior to joining Wilmington Trust, Shaver was a principal at Cover & Rossiter, P.A., a Wilmington-based CPA firm, where she headed the firm's captive insurance practice.
Shaver has been actively involved with the Delaware Captive Insurance Association since its inception in 2005. She is currently treasurer of the association, chair of the finance committee, and co-chair of the marketing committee. Joanne has spoken at the Delaware Captive Insurance Association's annual conference, and participated in many events on behalf of the association.
She earned a bachelor's degree in accounting from Mount Saint Mary's College in Emmitsburg, Md. Shaver currently holds a CPA license in Delaware. Shaver is a member of the American Institute of Certified Public Accountants (AICPA) and the Delaware Society of Certified Public Accountants. She recently earned the International Center for Captive Insurance Education's (ICCIE) "Associate in Captive Insurance" designation (ACI). She also received training through the National Association of Insurance Commissioners (NAIC) and the Philadelphia Insurance Society.
About Wilmington Trust
Wilmington Trust's Institutional Client Services (ICS) division offers institutional trustee, agency, asset management, retirement plan, and administrative services for clients worldwide who use capital markets financing structures, as well as those who seek to establish or maintain nexus, or legal residency for special purpose entities. ICS is distinguished from many competitors by its status as a core business of Wilmington Trust, as well as the experience and expertise of its global staff, its multi-jurisdictional presence, and its reputation for superior service.
Wilmington Trust's Captive Management Services provides administrative services for captive insurance companies, also known as captives, which are owned by the organizations they insure. Captives are typically formed by organizations that want to better manage the cost and administration of their insurance coverage. The use of captives has continued to rise. According to a March 2013 report by "Business Insurance Magazine," there were 6,052 captives worldwide in 2012, up from 5,807 in 2011.
Wilmington Trust provides these captive management services through offices in Delaware, Nevada, South Carolina, Vermont, and the Cayman Islands, which are among strategic locations for captive insurance company operations.
Wilmington Trust also provides Wealth Advisory services for affluent clients throughout the world.
Wilmington Trust has offices throughout the United States and internationally in London, Luxembourg, Frankfurt, Dublin, Amsterdam, Cayman Islands, and Channel Islands. Wilmington Trust is an affiliate of M&T Bank. For more information, visit http://www.WilmingtonTrust.com.
MEDIA CONTACT: Kent Wissinger, Wilmington Trust PR Manager (302) 651-8758