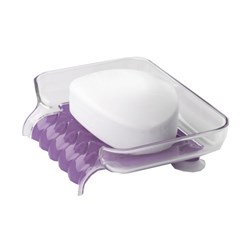 For those who want a quick and easy way to update their bathroom, our new range of Croydex accessories is the answer.
(PRWEB UK) 12 September 2013
The online bathroom store, Bella Bathrooms, unveils a dramatically expanded bathrooms accessories range this week with a huge range of new designs from Croydex.
Perfect for adding the finishing touch to a revamped space or just adding a fresh new feel to an existing bathroom, the newly updated Croydex range of bathroom accessories from Bella Bathrooms includes a choice of cool new essentials such as coloured toilet seats, light pools, stylish soap dispensers and bath mats in a cornucopia of colours, styles and textures.
Known for its design innovation and understated, contemporary styling, the versatile Croydex brand is at home in most decors. Its new wooden toilet seats, available in a choice of purple, pink, blue and lime, add a daring contemporary touch to any space and can be easily fitted to an existing toilet. Ergonomically shaped, each of the four new designs includes chrome plated hinges and is easy to clean.
Also now on sale in purple, pink, blue and lime is a chic range of modern form soap dispensers. With a soft touch finish, the dispensers add a splash of colour to the shelf or basin and are easy to fill and clean. They can be used in both the bathroom and kitchen with colours from the range mixed and matched throughout the home. An economical foam dispenser is built in to help make soap last longer, with each unit having a 250ml capacity.
For those who prefer to lather up with a bar of soap rather than liquid soap, the ultra cool, utterly practical trickle tray is carefully designed to hold a bar of soap and allow water to drain away. It stops water from accumulating, allowing the bar or sponge to dry properly when not in use. Suction cups on the bottom of the tray can be used to hold it securely in place at the side of the bath or basin.
Completing the new product drop is a large selection of brand new bath and shower mats, again in a choice of colours. They include pink memory foam and blue basket weave.
Bella Bathrooms' Richard Thompson said, "For those who want a quick and easy way to update their bathroom, our new range of Croydex accessories is the answer. The coordinated toilet seats, soap dispensers and bath and shower mats can be mixed and matched to create a bright, fun bathroom on a budget. Perfect for transforming school day mornings!"