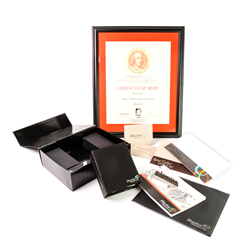 North Mankato, MN (PRWEB) September 17, 2013
The Premier Print Awards, presented by Printing Industries of America (PIA), announced recently that Navitor received a Certificate of Merit in the Media Kits category for its new stationery kits. The Premier Print Award Competition recognizes the highest quality printed pieces from around the world, and this year marks the 64th year of the competition.
"We are very excited and honored to have been chosen to receive this certificate of merit from Printing Industry of America," says Sandy Bartels, Product Manager for Navitor. "It is nice to know the hard work and vision of our Stationery Binder Kit is being recognized by the industry. We created these kits to benefit our members. Everything, from the sleek black box to the samples packaged inside, is meant to give our members information they need to make their order experience easier."
Navitor's award-winning new stationery kits were developed to create a better way for the company's members to cross merchandise products and processes. The first update to the stationery kit was to the catalog. The new perfect bound catalogs features images of both spot and full color products as well as updated information about Navitor's range of products. Products featured in the catalog include business cards, stationery, and marketing materials.
Navitor's new stationery kits feature a binder packed with samples of all standard stock options and print processes. Print processes represented include foil stamping, embossing, engraving, spot printing with Navitor's standard inks, and full color printing.
Alongside the catalogs and binder are sample kits designed to show examples of how print processes interact with the different stock options. Both full-color and spot color processes are represented in these sample kits, as well as specialty processes like foil stamping.
More information about the Premier Print Awards can be found at the PIA website. More information about Navitor's updated stationery kit can be found on the Navitor website.
About Navitor
Navitor, Inc., a subsidiary of the Taylor Corporation, is one of North America's largest trade-only wholesale printers and is headquartered in North Mankato, Minnesota. Offering the industry's most extensive assortment of personalized printing and custom business identity products at wholesale prices, Navitor services a broad network of print resellers who are experts in design, marketing, communication and print. With a national manufacturing footprint, online print ordering and expert customer support staff, Navitor is designed to serve print professionals who need a strategic business partner rather than another vendor. For more information, visit Navitor.com.