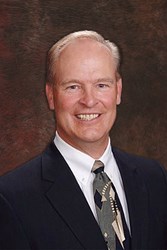 "This was a critical hire for our organization. Over the last year, we have aligned ourselves with leading systems integration firms." Kirk Ambrose, General Manager - Liberty Technologies
Vienna, Ohio (PRWEB) September 12, 2013
Liberty Technologies (http://www.libertytechnologies.com), a Millwood, Inc. company and a worldwide industry leader and innovator of unit load and packaging systems, has hired Mike Johnson as Director - Engineered Systems.
An industry veteran who has overseen order fulfillment and logistics operations for a number of global leaders, Johnson brings 35 years of experience in the design, implementation, operation and sales of complex materials handling systems to the position.
"This was a critical hire for our organization," says Kirk Ambrose, General Manager - Liberty Technologies. "Over the last year, we have aligned ourselves with leading systems integration firms. While they have history in automated materials handling systems, they have not traditionally focused on transport packaging materials and systems, such as pallets, stretch and shrink wrap films / systems, and corrugated products. That's where our value statement is. With our history in packaging and Mike's experience in systems integration, we can better bridge those two worlds. Additionally, Millwood launched its Unit Load Test & Design Lab earlier this year. Millwood customers, systems integrators and solution providers can validate their unit load, pallet and packaging designs and test new packaging products and materials."
Johnson will be responsible for managing Liberty Technologies' growing portfolio of equipment and system solutions, including stretch wrap and shrink systems, lift tables, palletizers, top sheet dispensers, conveyor systems and SafeFlo deep-lane storage technologies. He is also tasked with expanding the sales and service staff to support these products. He has a bachelor's degree in civil engineering from Michigan Technological University and an MBA from Marquette University. He will be based in Union, Kentucky, where he resides with his family.
"Growing our engineered systems capabilities is an extension of our unit load philosophy," says Ambrose. "While our company was founded on pallets and industrial lumber, we understand that getting a unit load, consisting of a pallet, packaging consumables and product, safely from Point A to Point B is critical to the success of our customers. That's our key differentiator - providing the best combination of the unit load components."