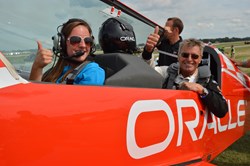 Once a person leaves the ground, it changes them profoundly. It's uplifting, inspiring and empowering.
Oshkosh, Wisconsin (PRWEB) September 12, 2013
Sean D. Tucker, the Hall of Fame aerobatic pilot whose air show performances have dazzled more than 80 million fans over the past 25 years, has added a new role to his storied career – role model and mentor as chairman of the Experimental Aircraft Association's Young Eagles program.
Tucker, who was introduced as chairman last month at EAA's AirVenture fly-in in Oshkosh, Wisconsin, is an active participant in Young Eagles, which has provided free introductory flights to more than 1.8 million youth ages 8-17 since 1992. The all-volunteer program has become the largest youth aviation education program ever created.
"I love sharing the magic of flight," said Tucker, whose dynamic skills earned him induction to the International Council of Air Shows Hall of Fame in 2007. "Once a person leaves the ground, it changes them profoundly. It's uplifting, inspiring and empowering."
Tucker plans on interacting with Young Eagles and with EAA-volunteer pilots and ground crew at each of his air show performance sites in the coming months – "This is my second full-time job; that's how committed I am to Young Eagles," he said.
The program's success is due to its simplicity as well as the more than 45,000 pilots who have flown young people. Prior to each flight, a pilot explains to a young person how an airplane works and how pilots prepare to fly safely. That is followed by a 15- to 20-minute flight that shows the joy and possibilities in flight.
"Thousands of young people have discovered a passion for aviation because of that first Young Eagles flight," said Jack J. Pelton, EAA Chairman of the Board. "Sean's enthusiasm for flying – especially given his background of learning to fly aerobatics to overcome fears he had as a young pilot – are an outstanding example of how young people can discover and achieve beyond what they can imagine."
Along with the initial Young Eagles flight, EAA supplies follow-up information that allows young people to explore the world of flight further, and even earn future flight training and experiences at little or no cost.
Tucker joins other aviation personalities who have served as Young Eagles chairmen, including Academy Award-winning actor Cliff Robertson (1992-94), Gen. Chuck Yeager (1995-2004), actor Harrison Ford (2004-2009), and Sully Sullenberger and Jeff Skiles of the US Airways "Miracle on the Hudson" flight (2009-2013).
About EAA
EAA embodies the spirit of aviation through the world's most engaged community of aviation enthusiasts. EAA's 180,000 members and 1,000 local chapters enjoy the fun and camaraderie of sharing their passion for flying, building and restoring recreational aircraft. For more information on EAA and its programs, call 800-JOIN-EAA (800-564-6322) or go to http://www.eaa.org. For continual news updates, connect with http://www.twitter.com/EAAupdate.
-30-