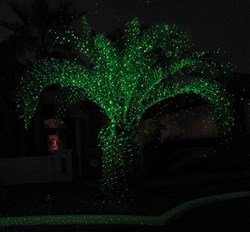 (PRWEB) September 17, 2013
Sparkle Magic, a high-tech lighting solutions company based in Chandler, Arizona, has officially launched their Illuminator Laser Light Kickstarter campaign. The successful funding of this exciting campaign will allow Sparkle Magic to initiate the first production run of the newly refined Illuminator Laser Light.
The Illuminator Laser Light is a revolutionary portable light that allows anyone to cast a beautiful array of thousands of red, green or blue lights in any direction and onto any surface. The Illuminator's adjustable dial produces several different lighting patterns that create a more unique effect than traditional holiday lighting. The Illuminator uses less energy and is much faster and easier to set up than traditional decorative lights and it is engineered with high quality, durable components that will allow each light to provide years of enjoyment.
Sparkle Magic's research and development team spent over 18 months developing the first Illuminator Laser Light prototype, then immediately began work on the more compact, second generation Illuminator. They have succeeded in making the Illuminator brighter, more portable and less expensive, as well as developing a patent-pending all-weather lens cap that protects the Illuminator against the damaging effects of harsh weather.
During the Kickstarter Campaign, The Illuminator Laser Light will be available for pre-order in three colors, Emerald Dust (Green), Crimson Stars (Red) and Indigo Twilight (Blue). Each light kit will include a 5 inch stake, tripod, power adapter and a flexible neck stand. A customized mounting kit is also available as an add-on, and includes a 7 inch stake, 3 sizes of specialized clamps, a wall mounting plate and an extra heavy base.
To view Sparkle Magic's Kickstarter project page and see the Illuminator Laser Light in action, please visit: http://www.kickstarter.com/projects/sparklemagic/the-illuminator-laser-light.
About Sparkle Magic:
Sparkle Magic is a startup company based in Chandler, Arizona that designs and develops innovative laser lighting solutions for both indoor and outdoor applications. Our mission is to create products that allow anyone to transform an ordinary environment into a world of splendor. For more information on Sparkle Magic, please contact us at 1-800-965-3723 or email us at crowdfunding(at)sparklemagic(dot)com.