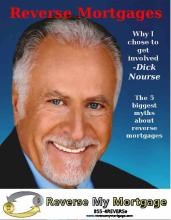 Salt Lake City, Utah (PRWEB) September 12, 2013
RMM recently addressed the potential changes that are underway with FHA loans and how it may penalize marriage by not granting Utah HECM loans if one's spouse is under the age of 62. These illustrated problems show why AARP has been suing FHA on behalf of spouses that were not on the Colorado reverse mortgage and are now losing their homes. They claim they should have been on the loan all along and state that some unscrupulous loan officer must have talked them into the loan or someone must have hid something, and that FHA has no right to require them to refinance or sell the property- or face foreclosure if they don't do either. That's why FHA is now considering adopting a rule to require both spouses to be on a reverse mortgage in Utah essentially buckling to this ongoing pressure.
So here is the big question- After working their entire life to buy a home and live the American dream, shouldn't today's seniors have the basic right and respect to decide for themselves what is right for them. Does government really believe they can better choose how they live their lives? Are people really willing to let government penalize them on a Colorado reverse mortgage for being married instead of living together? It is true that some people may make a choice they regret later. Today's society seems focused on taking away personal responsibility for our actions- and with it people lose their rights to choose how they make those choices too. Over the course of the past 6 years, individuals have walked down a path of having the government step in to "protect consumers" bail out payments for banks (provided they are too big to fail) and modify payments for consumers on the backs of the middle class. Government blame everyone but themselves for the housing crisis and use the catastrophe to take away our most basic rights, especially with Utah HECM loans. People are slowly losing their freedom to choose their own path in life, to choose what they will do with their own home or how to handle their version of the American dream.
Individuals should not take these attacks for a reverse mortgage in Utah lightly. A Colorado reverse mortgage shouldn't be prohibited based on the recipient's marriage status. People grew up in a country where married couples were and are taxed at a much greater rate than single people. That society has simply accepted that marriage is not necessary and most people simply live together to avoid the tax penalties and added burdens imposed on those who choose to marry. Simply put, today's attacks on freedom of religion is not to restrict what people believe or where they worship, but simply to tax and penalize them for living their beliefs. Some fear the future will hold a very steep price for believing in God and believing in the sanctity of marriage. For more information about Utah HECM loans or the potential FHA changes, visit their website at http://www.mortgagereversecalculator.com/.