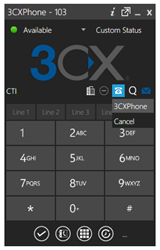 3CX really understands the mobility needs of today's on-the-go worker, putting all the power of their desktop phone software in the palm of your hand. - Ben Sayers, VoIP Supply CEO
Buffalo, NY (PRWEB) September 13, 2013
VoIP Supply, North America's leading value added reseller of VoIP hardware and complete solutions, is excited to announce the availability of the new 3CX Version 12 software based VoIP phone system.
If a business is looking to upgrade from 3CX Version 11 or converging networks to VoIP for the first time, 3CX Version 12 has an impressive list of new features including:

Brand new multi-platform clients for Windows, Android, and iPhone
3CXPhone for Windows now has an integrated SIP phone to easily switch between CTI mode for office use and SIP Phone mode for use at home or on the road
Personal phonebook entry expanded with 10 additional custom fields
Company and personal phonebook match new custom fields on incoming calls with the ability to map multiple numbers to a single contact
Server side features include support for latest snom and Yealink phones, support for Patton Gateways, and added provisioning URL's to the 3CX Management Console
Conference invitation uses the iCalendar standard with support for editing date and time, adding or removing participants, and conference cancellations
3CX is a Windows-based Unified Communications (UC) IP PBX that is used in over 35,000 businesses worldwide because of three key reasons; ease of use, mobility, and increased productivity.
Version 12 has made those reasons a lot more powerful thanks to a revamped suite of mobile and UC options.
With the new multi-platform client, 3CXPhone replaces the previous 3CX MyPhone and separate SIP Clients. They're now all merged into one new 3CXPhone interface for Windows, Android, and iPhone.
Users can Work anywhere, in or out of the office, because now almost any device can be made into a client of 3CX Phone System.
3CXPhone for Anroid and iPhone is just like the desktop Windows client, utilizing the same UC features on the go such as:
Call transfers
Play voicemails and call recordings
Multiple lines
Network sensor automatically detects whether users are in or out of the office
PBX admininistrators can send emails to users with an attachment that, when opened, will auto-provision and configure the users account
PUSH Technology automatically wakes up a mobile phone when a new VoIP call comes in so calls wont be missed and battery life will be saved by not having to keep the client active
Message Waiting Indicators (MWI) for missed calls and voicemails or chat messages
The 3CX Version 12 Windows Client is CTI Ready and fully integrates with Yealink and snom phones with automatic updates and call control via mouse clicks such as:
Make and end calls
Check voicemail and other call recordings
Create and schedule conference calls and send invitations via email
View presence of co-workers
Attended and blind transfers
"3CX has outdone themselves with their latest release," said VoIP Supply CEO, Ben Sayers. "3CX really understands the mobility needs of today's on-the-go worker, putting all the power of their desktop phone software in the palm of your hand."
About VoIP Supply
We are a place of uncovering, cultivating and developing leaders. A world class place to work with big goals, a clear vision, defined purpose and a dedicated team of passionate business professionals. We love what we do and do it better than any of our competition.
Since 2002, VoIP Supply has been the leading supplier of VoIP equipment and complete VoIP solutions in North America. We are known in the industry as responsive and knowledgeable VoIP product experts.
With everything you need for VoIP, VoIP Supply has grown rapidly throughout the years. VoIP Supply is a three-time Inc. 500/5000 honoree, listed by Business First as one of WNY's Most Admired Companies, as well as one of Western New York's Best Places to Work for many consecutive years, including 2012. VoIP Supply is also the first Certified B Corporation in Western New York.