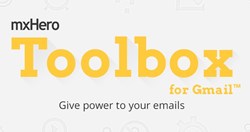 mxHero Toolbox offers cleaner and more convenient delivery of email extending technologies.
San Francisco, CA (PRWEB) September 16, 2013
mxHero, the email app company, launches its Email Toolbox for Gmail, Exchange and other email services. The Email Toolbox gives users unified access to a growing list of apps that greatly improve the email experience, from self-destructing messages to alerts for unreplied emails.
mxHero's Email Toolbox, a freely available product, currently offers five valuable email enhancements all accessible through a single button on the email composition window. Email Toolbox can be added to any Gmail account via a Chrome Extension or other email system through appropriate plug-ins. When sending email, users can choose among popular mxHero capabilities:

Attachment Track - to know when email attachments are accessed;
Self Destruct - to keep sensitive messages out of the wrong hands;
Private Delivery - allows multiple addressed messages to be delivered without revealing the recipients;
Send Later - to set message delivery to a later date and time;
Reply Time Out - get alerts when important emails go unresponded.
These five apps mark the beginning of a continuous release schedule of additional capabilities to be provided by mxHero and third parties. New apps promise seamless integration of legally binding signature requests, automatic encryption of attached files and more. The Toolbox offers cleaner and more convenient delivery of email extending technologies through the use of a single add-on that can be used uniformly by organizations across a wide range of popular email clients and systems.
The Email Toolbox is available at http://toolbox.mxhero.com. The service is free for all users of gmail.com and for up to 3 users of Google App domains and MS Exchange installations. The service can also be used without a plugin by any email client, including mobile clients, through subject line hash codes.
About mxHero
mxHero is an email enhancement platform and app store that gives companies, service providers and end users powerful new ways to control, use and analyze email. The mxHero virtual appliance and its growing suite of email apps, downloadable or available in the cloud, help companies and service providers address the challenges of increased email volume and size by improving flexibility, security and productivity. Apps developed for mxHero's open source platform work with any email management program, including Gmail and Microsoft Exchange. More than 5,500 companies with 350,000 users have added mxHero to their email capabilities.