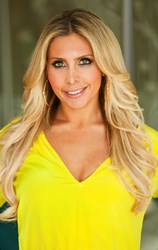 MommyJuice Wines proves that great wine doesn't have to come at a huge price," said Anya Sarre. "It's delicious, chic and authentically owned by a mom.
San Martin, CA (PRWEB) September 13, 2013
MommyJuice Wines announced today that the winery has retained celebrity stylist Anya Sarre as MommyJuice's brand ambassador. As an internationally recognized style expert and tastemaker, Sarre has been featured on numerous television outlets and hundreds of magazines. Her expertise on Hollywood and celebrity motherhood makes her the perfect representative for a wine that is made by a mom, for moms.
"Anya is the most stylish mom I know, whether she is walking the red carpet, planning a party or spending time at the beach," said Cheryl Murphy Durzy, Founder and Owner of MommyJuice Wines. "I knew the minute I met her that she would be the perfect person to represent my brand and I am thrilled to work with her."
Sarre is a go-to fashion expert and trend spotter for Hollywood's biggest celebrities. Born and raised in California, Sarre embodies the phrase "California Chic." Mother to a one-year-old son, Sawyer, Sarre combines the laid back look of parenthood with real Hollywood glamour.
"MommyJuice Wines proves that great wine doesn't have to come at a huge price," said Anya Sarre. "It's delicious, chic and authentically owned by a mom. I am honored to be their brand ambassador and I look forward to showcasing how moms can be chic without breaking the bank."
Sarre has begun working with the brand to promote and introduce MommyJuice to the world. She recently appeared on a KCBS/KCAL9 TV segment featuring her "Back To School Must Haves" where she touted her favorite finds for kids and moms. Sarre will continue to use and endorse MommyJuice Wines for all her parties, events and upcoming projects.
About Anya Sarre
Anya Sarre is an internationally known fashion, beauty and lifestyle expert, tastemaker, and brand influencer. She has been featured on numerous television outlets and in hundreds of magazines and online publications. As a celebrity stylist, Anya has dressed talent for hundreds of red carpet events such as the Academy Awards, Golden Globes, Emmys, Grammys, and Cannes Film Festival. Anya has won awards such as "Best Fashion Stylist for TV" for the POSHGLAM Awards and "Visionary Fashion Stylist Award" at the Bel Air Film Festival. Anya has been featured on Television shows including Entertainment Tonight, The Insider, Extra, The Rachael Ray Show, The Ricki Lake Show, The CBS Early Show, VH1, the STYLE network, Home and Family, Associated Press TV, TV Guide Network, KTLA, CBS2/KCAL9, The Baby League Network and more. She has been featured and profiled in Variety, The Hollywood Reporter, LA Confidential, GenLux, 944, Life and Style, Watch!, The Wall Street Journal, and CelebrityBabyScoop to name a few. As a contributing editor to Inside Weddings Magazine, Anya's three-page spread "Celebrity Style with Anya Sarre" showcases wedding trends and style inspiration. She is also a regular contributor to OK! Magazine, US Weekly, InTouchWeekly.com, SheKnows.com, SheFinds.com and is the lifestyle contributor to ClubMomMe.com.
Anya has hosted high profile events for Diane Von Furstenberg, Tory Burch, Van Cleef and Arpels, Catherine Malandrino, Barbie Rocks, DryBar, and Daniela Corte. She served as Master of Ceremonies for the Celebrity Red Dress Fashion Show for L.A. Fashion Week and the Pregnancy Awareness Month Los Angeles Event. Anya and her team have planned and organized every detail of major celebrity events including weddings, baby showers and book launch parties that were all featured in National magazines.
She has regularly guest lectured at USC for both undergraduate and graduate classes in the Annenberg School for Communications and Journalism (her alma mater). Anya had the honor of teaching the Visual Communications and Styling class as an expert professor for a semester at the Fashion Institute of Design and Merchandising, Los Angeles. Anya has served as the fashion director for YouCeleb, the Chief Handbags and Accessories Stylist for ShoeDazzle, and has been the brand ambassador to numerous fashion, beauty, lifestyle and baby brands. She lives in Los Angeles with her husband and baby. Their home was recently featured on the cover of Coastal Living Magazine. She can be found online at http://anyasarre.com. Twitter @StylistAnya and Facebook @AnyaSarre.
About MommyJuice Wines
MommyJuice Wines was founded by Cheryl Murphy Durzy, a mother of two and nearly 15-year veteran of the industry via her family's winery, Clos LaChance, in San Martin, California. MommyJuice strives to provide balanced, fruit-forward wines that bring a bit of peace after the chaos of everyday life as a parent. The wines will soon be available at CVS Pharmacy stores and can be found online at http://www.mommyjuicewines.com. Facebook: http://www.facebook.com/MommyJuiceWines, Twitter: @MommyJuiceWines, Instagram: http://instagram.com/mommyjuice, and Pinterest: http://www.pinterest.com/MommyJuice.
###