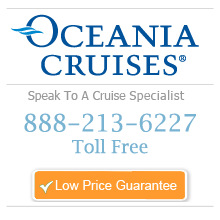 Tucson, Arizona (PRWEB) September 13, 2013
OceaniaCruiseSale.com, the online cruise division of Bon Voyage Travel, has announced the details of Oceania's new 2014-2015 Winter Collection. This is the largest winter launch that Oceania Cruise's has ever had, with new ports in Asia, Africa and the Americas. Forty-four of the eighty-six sailings will be new itineraries, including 19 Grand Voyages. Guests who book a veranda or higher category by December 31, 2013 will get prepaid gratuities, unlimited Internet and early booking savings.
For the Grand Voyage sailing, there are special extras depending on the length of the voyage; guests will receive a one-night pre-cruise luxury hotel stay and roundtrip transfers. For bookings made by December 31, 2013, these voyages also offer prepaid gratuities and unlimited internet for all stateroom and suite categories. As a valued partner of Oceania Cruises, OceaniaCruiseSale.com is excited to help their online customers explore these new sailings, and provide assistance in booking pre or post-cruise stays, excursions, transfers and more.
OceaniaCruiseSale.com's online cruise consultants are specifically trained to support Oceania cruises and have received extra training from key Oceania employees. They assist with all aspects of a client's travels, and are able to get clients additional discounts and amenities. They can help clients learn about these new winter sailings and itineraries for the "winter wave season" beginning Wednesday, September 18, 2013. To see all the details of the 2014 and 2015 Winter Collection, visit OceaniaCruiseSale.com.
About the Author: Oceania Cruise Sale is one of the online cruise divisions of Bon Voyage Travel, a travel agency founded in 1976 in Tucson, Arizona. With over 35 years leading the travel industry, Oceania Cruise Sale offers additional amenities and superior service to those seeking the best cruise experience. Since Oceania Cruise Sale launched in September of 2010, Cruise Sale has expanded to operate eight dedicated online cruise sale websites, which successfully serve thousands planning their cruise vacation at the lowest price.