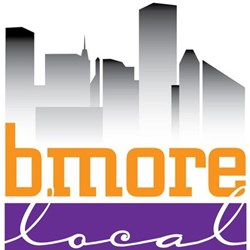 Baltimore, MD (PRWEB) September 12, 2013
#BmoreLocal on August 8th at BioTechnical Institue of Maryland Benefiting Internships for BTI Program Participants.
Mark's son, Adam Van Bavel, 2012, 2011 & 2010 Baltimore City Paper Readers' Poll "Best Do-Gooder" has partnered with GiveCorps, BioBuzz and other great local businesses to bring Baltimore a monthly event series like no other.
Meet like-minded professionals and enjoy great food via Blue Hill Tavern & The Rowhouse Grille, local craft beer from National Premium Beer and make sure to get your picture taken in the photobooth by ShutterBooth Maryland!
BTI's (BioTechnical Institue of Maryland) Mission: Since 1998, the BioTechnical Institute of Maryland's BioSTART to Laboratory Associates Program provides tuition-free training in basic laboratory skills to bright, ambitious, unemployed and underemployed residents of Baltimore City. More than 300 graduates have received a combination of classroom instruction, hands-on training and on-the-job work experience through internships. These successful graduates have realized employment opportunities and new careers with more than 35 employers. These employers benefit from a stream of ready-for-hire, well-qualified lab technicians.
Since 2010 BioBuzz has been hosting the Maryland Biotech community at monthly networking events and meet-ups. These regular monthly events have a causal, social atmosphere and host a widely diverse group of biotech professionals who attend. There are no lectures or seminars and there's no agenda or program; just fun and networking with your peers. BioBuzz is working to build a stronger community by bringing the biotech workforce out of the labs to culture relationships, instead of cells. By building a stronger social community we will enhance business and job opportunities for everyone in the region.
Visit us at http://www.biobuzz.net or our LinkedIn group to join and learn more about our next event
Tickets are $10 online (until 12pm 09/12/13) and $20 at the door with proceeds benefiting the BioTechnical Institute of Maryland.
Event proceeds will be used to fund paid internships for BTI program participants at the end of the Lab Associates portion of the program.
CHECK-IN TO WIN...
Check-in with, "I'm at #BmoreLocal" to BioTechnical Institute of Maryland via Yelp, Facebook, Foursquare, Twitter or any location based service when you arrive and let us know when you enter. You'll be entered for a chance to win gift certificates for showing up and letting people know about #BmoreLocal!
RIDE UBER...
Take your first Uber to BioTechnical Institute of Maryland and get $10 off your ride. Avoid parking and enjoy your drinks without worrying about how to get home!
Not only that, but Uber will make a matching donation of $10 to BioTechnical Institute of Maryland for every person that rides!
Just sign up and apply promo code - check the Facebook event for details - before you ride.
Code valid for new users only, through 2am Friday, September 13th.
Events are hosted monthly at different locally owned businesses in and around Baltimore. Every event aims to show the unique diversity in businesses, causes and residents that makes Baltimore "The Greatest City in America".
More Info: http://www.bmoreevents.com