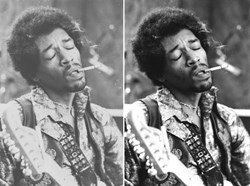 We are thrilled to be restoring and bringing back to life some of the most iconic and photographically stunning photos ever taken of Jimi Hendrix.
Westford, MA (PRWEB) September 19, 2013
A collection of almost three thousand original negatives and slides that include never-before-seen photos of some of the most legendary rock, soul, rhythm and blues, jazz, country and gospel performers of the 1960's and '70's has been found and is being brought back to life by Jim Cummins, the photographer who shot them, and a photo restoration team headed up by Image Fortress (http://www.imagefortress.com/kickstarter).
Jim Cummins is a former New York Times and Newsday photojournalist whose work became best known from the iconic photographs he took of the legendary rock, rhythm and blues, soul, jazz, gospel and country-western performers during the 1960s and '70s. Over 900 music albums from that era, many of which went Gold, Platinum, or Diamond, used Jim's photos as their album covers. His photos of celebrated musical performers were also published as magazine covers, as concert posters, and in feature articles in national magazines such as Newsweek, Rolling Stone, and Life. Then they got packed away, in a basement, not to be seen again for 43 years.
"We are absolutely thrilled to be restoring and bringing back to life some of the most iconic and photographically stunning photos of artists like Jimi Hendrix, Janis Joplin, Led Zeppelin, Mick Jagger, Eric Clapton, Santana, The Doors, Jefferson Airplane, Ray Charles, Duke Ellington, Miles Davis, Aretha Franklin, Crosby/Stills/Nash & Young, and Wilson Pickett, among over one hundred legendary artists that Jim Cummins photographed, that are in this amazing collection of original negatives and slides," stated Bob Pokress, Photo Editor at Image Fortress, an industry leader in digital image preservation. "The first time I viewed the original negatives and slides on a lightbox while Jim was telling me about the shoots, I felt as thought I had stepped out of a time machine and was standing alongside Jim as those legends were in performance and Jim was taking those pictures," said Pokress.
Cummins' lost photos include over 100 never-before-seen photos of Jimi Hendrix. They were taken of Hendrix at The Record Plant studio during his recording session of the hit "Izabella" for the "Rainbow Bridge" album, in performance at Fillmore East on New Year's Eve 1969, and in concert at Madison Square Garden on January 28, 1970 (made famous for the fact that Jimi Hendrix walked off the stage after just the second song.)
Patrons of the Kickstarter Jimi Hendrix Photo Restoration Project (http://www.imagefortress.com/kickstarter) will be receiving limited edition Fine Art prints, signed by Jim Cummins, made from the restored Hendrix photos.
About Image Fortress
Headquartered in Westford, MA, Image Fortress Corporation (http://www.ImageFortress.com) is an industry leader in image restoration, digital preservation and cloud-based online digital archiving services. The company's family of DigitalFortress™ services ensure the long-term preservation and integrity of media files and are compliant with ISO's Digital Archiving standards for governmental digital preservation.
###
Image Fortress and DigitalFortress are trademarks of Image Fortress Corporation.