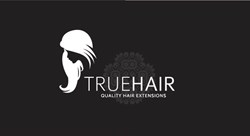 Tape hair extensions are both easy to install and a great value, since each extension is reusable.
Chicago, IL (PRWEB) September 25, 2013
The hair extension experts at Chicago's True Hair Quality Hair Extensions have added a new product to their lineup of hair extensions: tape hair. This innovative extension technique promises to change the perception of extensions as difficult to install and maintain. According to True Hair, tape hair extensions are both easy to install and a great value, since each extensions is reusable.
This new and unique extension technique offers clients a more natural look and will not damage their own hair. The quick and easy install takes only two hours, compared to fusion-style extensions which may take up to eight hours to install. Easy-to-install tape-hair extensions can last up to eight weeks and are easy to remove whenever necessary. These pre- taped extensions are low-maintenance, and wearers can style them in any way they choose.
Tape hair extensions work especially well for women with fine hair. They can provide both length and fullness and can be used to provide highlights or low lights for clients with longer hair. They are available in lengths of 16, 18 and 20 inches and come with 40 pieces (20 sets) in one package.
As with all of True Hair's top quality extensions, True Hair tape hair extensions are made from 100% natural human hair. Tape hair extensions from True Hair will not tangle, frizz, shed or matte up, even after many washes. Because the hair is double drawn (meaning it contains no short hairs), clients will find that tape hair extensions provide soft and lustrous hair that blends into their natural locks and is completely undetectable. Overall, this extension technique can provide everything clients expect from other styles of extension, without the difficulties associated with these other extension styles.
True Hair's high-quality new tape extensions are making a splash and seem ready to become "the next big thing" in hair extensions. Even the local media in Chicago has started to take notice: Morning show Windy City Live recently broadcast a segment with a celebrity stylist, and the first model featured in the piece was sporting new True Hair tape extensions. As this video makes clear, tape hair extensions provide a natural, flowing look that is hard to top with any other method.
About TrueHair Company LLC.
True Hair Company is a premier retailer in Chicago IL, offering the highest quality hair extensions that blend seamlessly with your natural hair. We aim to provide 100% virgin and natural human hair for women of all ethnicities and backgrounds.http://www.truehaironline.com.