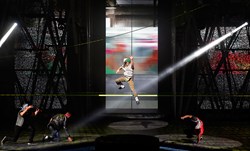 Las Vegas (PRWEB) September 12, 2013
Exhilarating spectacles will be taken to new heights Wednesday, Oct. 16 as Michael Jackson ONE by Cirque du Soleil teams with Gibbon Slacklines to showcase a record-breaking highline walk attempt from the exterior of Mandalay Bay Resort and Casino, 63 floors above the Las Vegas Strip. As the kick off to the 2013 World Slackline Federation (WSFed) Slackline World Cup Finals taking place the following day inside the Michael Jackson ONE Theatre, Andy Lewis, the daredevil Gibbon athlete and slackliner made famous for his Super Bowl XLVI halftime show performance with Madonna, will attempt to set the world record for the longest urban highline walked. Lewis will thrill spectators by forging a 480-ft. high, 360-ft.-long slackline, running parallel to the Las Vegas Strip, rigged from two of Mandalay Bay's resort towers.
Simultaneously, three of the world's top professional slackliners, Hayden Nickell, Josh Beaudoin and Mickey Wilson, will perform tricks on individual slacklines rigged at the same breathtaking height.
"We're no strangers to executing gravity-defying stunts," said Emilio Torres, vice president of sales at Gibbon Slacklines. "However, this Megastunt brings slacklining to a new level and will showcase what the incredible Gibbon athletes can pull off. We are thrilled to be teaming up with Mandalay Bay and Cirque du Soleil to show the world what we can do."
Presented exclusively at Mandalay Bay, the cast of Michael Jackson ONE, featuring professional slackline athletes Igor Zambelli and Gabriel Amaral, will participate in a special performance of the show's slackline act choreographed to Michael Jackson's iconic No. 1 hit "Bad," during the 2013 WSFed Slackline World Cup Finals at the Michael Jackson ONE Theatre on Thursday, Oct. 17.
Michael Jackson ONE, a fusion of acrobatics, dance and visuals that takes the audience on an immersive journey through the music and spirit of Michael Jackson, is the eighth and most recent Cirque du Soleil production in Las Vegas. Heralded by critics as "a remarkable sonic experience" (Chicago Tribune) and "A virtual parade of 'wow' moments" (Rolling Stone), the show features Michael's artistry and spirit expressed through the vibrant energy of the cast of 63 dancers and performers, underscored by aerial performance, driving acrobatics, and vivid choreographies that use the urban/hip hop idiom as a springboard for exploration.
Open to the public, the competition puts the world's best slackliners against each other as they compete for the title of overall World Cup Champion. With the biggest slackline purse to date up for grabs, the athletes will battle head-to-head, executing their best tricks as they vie for the competition's top spot. Judges include Hayden Nickell, a slackliner who was featured on the 2012 MDNA Madonna World Tour, Josh Beaudoin a top Gibbon slackline athlete and Damian Cooksey, owner of Bridges Rock Gym, the premier slackline facility in the United States.
The world-record attempt and the 2013 WSFed Slackline World Cup Finals are open to fans of all ages and offer complimentary admission. Details regarding spectator viewing for both events can be found at http://www.gibbonslacklines.com/Vegas.
For more information about Gibbon Slacklines, please visit http://www.gibbonslacklines.com/us and to learn more about the Michael Jackson ONE show, go to http://www.cirquedusoleil.com/mjone.
###
About Gibbon Slacklines USA
Slacklining is the act of balancing on a narrow, flexible piece of webbing that's anchored between two points, usually trees. A sport that was once exclusive to the climbing community, slacklining is now accessible for everyone, from athletes to families, and is growing as a crosstrainer, fitness trend, backyard activity and sport of its own.
Based in Louisville, Colorado, Gibbon Slacklines USA is the exclusive North American distributor for Gibbon Slacklines. Gibbon Slacklines is the world's leading slackline manufacturer and is dedicated to introducing the world to slacklining as a fun and accessible way to increase balance, build muscle and rehabilitate injuries.
Gibbon Slacklines are available at over 3,000 retailers across the U.S. The company holds slacklining competitions across North America and sponsors a group of athletes to travel the country introducing and teaching the sport of slacklining. For more information about Gibbon Slacklines or the sport of slacklining, visit http://www.gibbonslacklines.com/us. Connect with Gibbon Slacklines USA on Facebook, Twitter, Instagram and Youtube.
About Michael Jackson ONE by Cirque du Soleil
Cirque du Soleil and the Estate of Michael Jackson present Michael Jackson ONE in Las Vegas, a new creation in residency exclusively at Mandalay Bay Resort and Casino. Directed by Jamie King, this entirely new show is the second creative project to be developed between Cirque du Soleil and The Estate of Michael Jackson after the top grossing Michael Jackson THE IMMORTAL World Tour, currently playing arenas around the world. Michael Jackson ONE is Cirque du Soleil's 8th production in Las Vegas since Mystère in 1993. The company has brought wonder and delight to more than 100 million spectators in more than 300 cities on six continents. Cirque du Soleil has 5,000 employees, including more than 1,000 performing artists from close to 50 different countries. For show information, please visit: http://www.cirquedusoleil.com/mjone. Keep up with Michael Jackson ONE news and events on Facebook and Twitter #MJONE.
About Mandalay Bay
Mandalay Bay, a AAA Four Diamond Award-winning resort, is set on 120 lush acres featuring the award-winning Mandalay Bay Beach, a tropical pool paradise with real sand and the only climate-controlled, poolside gaming in the city. The Mandalay Bay Events Center, award-winning restaurants, exhilarating entertainment, unique shopping, Shark Reef Aquarium and the 1.7-million-square-foot Mandalay Bay Convention Center combine to make Mandalay Bay a distinctive Las Vegas destination. In 2014, THEhotel, a stand-alone all-suite hotel at Mandalay Bay will be redesigned and rebranded Delano Las Vegas. Mandalay Bay is a wholly owned subsidiary of MGM Resorts International (NYSE: MGM).