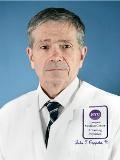 Dr. John Coppola, a cardiologist with New York Cardiovascular Associates, will direct the Bellevue Hospital Center's Cardiac Catheterization Laboratory, starting September 16.
New York City, NY (PRWEB) September 11, 2013
New York Cardiovascular Associates' clinical cardiologist and interventionalist Dr. John Coppola has been appointed as the new Director of the Cardiac Catheterization Laboratory at Bellevue Hospital Center. He will assume the role starting September 16, while continuing to serve at New York Cardiovascular Associates' health center in New York City.
Dr. Glenn Fishman, a Professor and Director of the Leon H. Charney Division of Cardiology at New York University School of Medicine, said Dr. Coppola will make an excellent addition at Bellevue Hospital Center. "Dr. Coppola has become a highly valued member of our academic faculty," said Dr. Fishman, who has worked with the NYCVA cardiologist since 2010 when Dr. Coppola joined the NYU School of Medicine's Department of Medicine. "Dr. Coppola's extensive clinical, educational, and administrative experience will prove invaluable at Bellevue Hospital Center as our Division of Cardiology continues its efforts to provide the highest quality, cost-conscious care for our patients, balanced with an outstanding educational experience for our trainees."
Dr. Coppola is an AOA graduate of New York Medical College, and completed his residency and fellowship training at St. Vincent's Hospital. Over the past three decades he has held a number of leadership positions including Chief of the Coronary Care Unit, Program Director of the Internal Medicine training program, Director of Medical Education, Director of the Cardiac Catheterization Laboratory, and Chief of Cardiology from 2005-2010. Dr. Coppola is widely recognized as an outstanding educator and was selected by NYU's fellows as the Faculty Teacher of the Year in the Division of Cardiology in 2012. He is also the author of numerous scientific articles.
In addition to his leadership role in the cardiac lab, Dr. Coppola will increase his participation in the Bellevue cardiology consultation service, along with Drs. William Slater and Richard Stein. Dr. Coppola will continue to serve as a clinical cardiologist/interventionalist with his NYCVA colleagues.
For more information, visit:
http://www.nycva.org
Varicose Vein Treatment Options
Varicose veins and spider veins are extremely common in men and women. While spider veins are very small, reddish veins on the surface of the skin, varicose veins are much larger, bulging, tangled veins that may appear bluish in color. Men and women suffer from varicose veins, although women are much more likely to have them.
Today, patients have access to a number of effective varicose vein treatment options. Advancements in technology and medicine have led to the development of effective, minimally invasive treatments that produce optimal results with few side-effects or downtime. These treatments include sclerotherapy, radio frequency ablation, phlebectomy, and endovenous laser ablation.
About New York Cardiovascular Associates
New York Cardiovascular Associates is New York City's premier center for cardiac, vascular, pulmonary, sleep disorder, and primary care. The center has been providing the five boroughs of New York City with leading-edge care since 2005. New York Cardiovascular Associates is unique in giving patients access to a team of physicians that encompasses every field of cardiology. From the center's Manhattan office, NYCVA cardiologists provide complete patient services, including heart disease prevention, cardiac screenings, and treatment for the full range of cardiovascular conditions. In addition to superior cardiac care, New York Cardiovascular Associates provides vascular, arterial, pulmonary, and internal medicine care. Physicians and specialists work together to develop comprehensive treatment plans, whether treating patients for a single condition or for multiple health issues. NYCVA has earned multiple national accreditations, and its doctors and technologists are recognized among the top experts in their fields.
New York Cardiovascular Associates
http://www.nycva.org
Tel. 646-233-1838