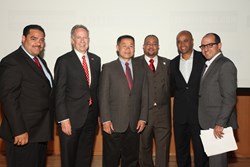 New York (PRWEB) September 12, 2013
LatinTRENDS hosted a mayoral forum on September 5th at the CUNY Graduate Center in New York City. Mayoral candidates and attendees came together to discussed critical issues of the community including job creation, education and helping the poor, middle class and small business owners to achieve more prosperity. Candidates in attendance were Erick Salgado, Adolfo Carrión Jr., John Catsimatidis, George McDonald, Jack Hidary, and John C. Liu.
As a leader in the multicultural multimedia industry in New York, LatinTRENDS has the social responsibility to connect its audience with the mayoral candidates to discuss relevant issues that will shape how our community lives, works and enjoys New York City.
"Our goal is to give forward-thinking New Yorkers the opportunity to ask questions and get answers straight from the candidates, so they can make informed decisions for themselves," said Juan Guillen, founder & CEO of LatinTRENDS. "But, the most powerful message to take to our communities is that we all need to exercise our right to vote."
Moderated by Mr. Guillen, the forum gave each candidate the opportunity to answer two critical questions based on the theme. After the debate, the audience joined the candidates in an open Q&A session. Participants were particularly interested in hearing clear answers about leadership qualities; hospital and healthcare; grants, especially for arts funding; lease renewal including working with landlords not to increase rent for long-term tenants; proposals to help level the field for future candidates, and why it is important for the city to have an independent party mayor.
The forum attracted community influencers and was in line with LatinTRENDS' mission statement, which is to inform, entertain and inspire the forward-thinking.
For more information, please contact Natacha Ginocchio at (646) 648-3295 or via email at nginocchio(at)azucarcommunications(dot)com.