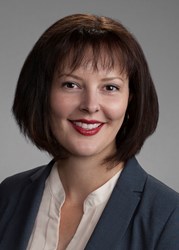 Santa Fe, New Mexico (PRWEB) September 12, 2013
Holland & Hart LLP is pleased to announce the addition of Gabrielle Gerholt to the firm's energy, environment and natural resources practice. Ms. Gerholt is based out of the firm's Santa Fe office.
Ms. Gerholt provides counsel on energy, environment and natural resources matters. She advises clients on oil and gas regulatory and compliance matters, land management administrative issues and royalty matters. She also drafts and negotiates complex lease agreements regarding renewable energy and minerals.
Prior to joining Holland & Hart, Ms. Gerholt worked as assistant general counsel for the Oil Conservation Division in the New Mexico Energy, Minerals and Natural Resources Department, where she represented the division on various regulatory and rulemaking matters. Before serving with the New Mexico Oil Conservation Division, she was associate counsel at the New Mexico State Land Office.
She holds a J.D. from the Temple University Beasley School of Law, an M.S. from Tulane University and a B.S. from New Mexico Highlands University.
About Holland & Hart
Holland & Hart LLP delivers integrated legal solutions to regional, national and international clients of all sizes.
Since its inception in 1947, Holland & Hart's more than 440 lawyers have consistently been recognized by leading national and international peer and industry review organizations for innovation and dedication to the practice of law.
For more information, visit http://www.hollandhart.com.