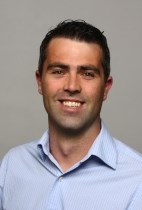 Look at the big overall picture, take in the macro view and see what marketing channels are going to help merchants in the different stages of their business. ~ Iain Bundy
Vancouver, BC (PRWEB) September 15, 2013
There are often many factors that need to be considered when estimating sales figures and a 2013 report from eMarketer has found that spending on new content types will increase by 15.1% over the next 12 months*.
All Inclusive Marketing CFO and COO Iain Bundy discusses how to manage and adopt these variables into an accurate forecast with James Martell founder of The School of Internet Marketing and host of Affiliate Buzz on WebmasterRadio.FM.
When merchants are developing a sales projection, there are many different variables that they need to factor to make sure their results are accurate. Within each forecast, the number of traffic levels to a website and the company's conversion rate will need to be taken into account to measure the company's performance in comparison to their previous records. Alongside that, these figures should also be broken down to each particular marketing channel that they are involved in whether it's through SEO, PPC or social media.
During the episode, Iain explains the different variables that merchants come across when developing a sales forecast and what the effect may be on the final projection. Business owners will also recognise the worth of different marketing channels and which sort of avenues might suit their needs in the near future.
This was something that Iain Bundy picks up on during the show stating: "Look at the big overall picture, take in the macro view and see what marketing channels are going to help merchants in the different stages of their business".
"As a CFO in the performance marketing industry, Iain knows his way round a profit/loss spreadsheet," adds James Martell.
With all this information at hand, merchants can take this information and understand what they will need to consider when creating a forecast for their clients in the future.
This discussion is available on the website:
http://www2.webmasterradio.fm/affiliate-buzz/2013/08/29/sales-projections-for-merchants-understanding-the-variables
*http://www.emarketer.com/Article/Digital-Account-One-Five-Ad-Dollars/1009592
About All Inclusive Marketing
All Inclusive Marketing (AIM) is a full service digital marketing agency with offices in Vancouver, Chicago and soon to be London. They service clients from around the world including Canada, United States, Brazil, Europe, Caribbean, the Middle East and Asia. All Inclusive Marketing's award winning team specializes in SEO, PPC, Big Data Analysis and Forecasting, Performance Marketing, Attribution Tracking, mCommerce, Email, Web Design, Video Optimization and Digital Strategy for Internet Retailers. Visit http://www.allinclusivemarketing.com for more information.
About James Martell
James Martell is a successful author, publisher, podcaster, sought after speaker and the founder of The School of Internet Marketing. James is a self-taught Internet entrepreneur and a leading expert in affiliate marketing, natural search engine optimization and outsourcing. Residing in a seaside community south of Vancouver, B.C. Canada with Arlene, his wife of 29 years, and his four children. Visit http://jamesmartell.com for more information.
About The School of Internet Marketing
The School of Internet Marketing allows business owners to take control of their web presence in order to develop new leads and customers. The School works to empower business owners with the understanding that a little education can go a long way. It offers a variety of 100% web-based courses for small business owners wanting to learn how to market their business online for just $47 per month. Visit http://www.theschoolofinternetmarketing.com for more information
CONTACT INFORMATION
Contact: James Martell, VP of Business Development
Clearbrook Web Services, Inc/The School of Internet Marketing
Phone: (604) 535-6352
Email: james(at)theschoolofinternetmarketing(dot)com