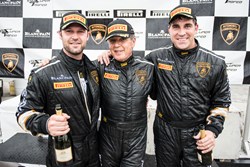 Day one saw a dominant O'Gara Motorsports team performance, with first place victories in both the Professional and Gentleman racing classes.
Beverly Hills, CA (PRWEB) September 12, 2013
It was another exciting weekend of Lamborghini racing action as the Lamborghini Blancpain Super Trofeo Series crossed the border into Canada for races five and six at Ontario's Calabogie Motorsports Park. The partnership of O'Gara Coach Company's Lamborghini Beverly Hills and Global Motorsports Group (GMG) once again produced impressive results on the track.
Day one saw a dominant O'Gara Motorsports team performance, with first place victories in both the Professional and Gentleman racing classes. After posting the fastest qualifying time of the entire field, professional driver James Sofronas in the #33 Lamborghini Beverly Hills / Forgiato Tires car battled back and forth with series leader James Conway all the way to the finish. Conway jumped out with an early lead and held until lap 9, when Sofronas navigated turn 8 to retake first. Conway took the lead again after a close contact while exiting the pit-lane following a mandatory 45-second stop, but Sofronas held on to power past Conway as his car lost grip and take the checkered flag.
Lamborghini Beverly Hills Owner Tom O'Gara and Brand Manager Parris Mullins divided and went on to conquer the Gentleman division. Where in past races the two had operated as a team, at Calabogie they each took the reins of their own car with O'Gara behind the wheel of the #69 car and Mullins piloting the blue and white #14. It was a winning strategy as Mullins took first followed closely by O'Gara in second, giving O'Gara Motorsports a truly dominating presence on the podium.
Sofronas said, "I had great battle with Kevin from the drop of the green flag which continued throughout the race. Hats off to the GMG crew, as they prepped the car fantastically and I was able to take advantage of better traction. I'd like to dedicate the win to Tom O'Gara and Parris Mullins from Lamborghini Beverly Hills and Jeff Kreitzman at Forgiato Wheel for giving me the opportunity to race."
Race six held another Sofronas-Conway battle in the pro division, with roles reversed and Sofronas finishing the day in second place. For Mullins and O'Gara, day two was a full contact effort as the pair sought to build on their success in race five. Mullins was forced to pit on lap 1 following contact with the car in front but returned to the track sporting improvised repairs holding on his front splitter. Then on lap 20, O'Gara made an incredible pass on the front straight that unfortunately cost him control of his vehicle, causing him to slide into the wall and retire from the race.
About Lamborghini Beverly Hills, an O'Gara Coach Company
There are many ways down the road of life. The O'Gara Coach Company offers a journey that begins with a bespoke buying process and accelerates through exclusive access to a world of thrilling experiences. Along the way our exceptional service team is always there to ensure you never slow down. Clients of Lamborghini Beverly Hills choose a lane that leads to unique driving opportunities and celebrations of an unparalleled racing heritage. Where your road leads is up to you, but the O'Gara Coach Company will see that you arrive in the style you deserve. http://www.ogaracoach.com/.
About GMG
Founded in 2001 by James Sofronas and Fabryce Kutyba, GMG has quickly established itself as North America's premier performance tuning and racing facility. What began as a small 1200 sq. ft. shop, maintaining two race cars, has grown into a 30,000 sq. ft. state-of-the-art performance tuning, racing and service facility located in Santa Ana, CA. The staff's experience, attention to detail, and passion are what make GMG the choice of professionals and enthusiasts world wide. Whether you want to maximize the performance of your street car, or race wheel-to-wheel on both amateur and professional racing series across North America, GMG's reputation for service and quality is unmatched. http://www.gmgracing.com.