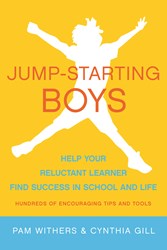 If you are a mom of boys you need this book in your life! —Mami's Time Out
(PRWEB) September 12, 2013
Pam Withers is the best-selling, award-nominated author of more than a dozen adventure novels particularly popular with teen boys. When she noticed boys tended to start falling behind girls in reading and literacy around fourth grade, she decided to do something about it. Together with her sister Cynthia Gill, herself an educator with over thirty years of experience, they researched and wrote Jump-Starting Boys: Help Your Reluctant Learner Succeed in School and Life.
Pam Withers is launching her tour of the book in the San Francisco Bay Area next week, starting at Towne Center Books in Pleasanton on 9/18. She will also appear at Books, Inc. Palo Alto on 9/19.
Listen to her on KPFA Cover to Cover on 9/16. She will also appear on KPIX next weekend.
No time to read? Jump-Starting Boys is now available as an audiobook!
One Crazy Kid highlighted the top reasons boys are underachieving in a recent review of the book. This includes the reading/writing gap. "But more than at any point in the past, reading and writing have become the linchpin of success in life. Boys, not to mention many parents, don't know this. And some parents, teachers, and librarians have been loath to address that increasing gap on the false assumption that focusing on it will necessarily mean a backward slide for girls just as girls have secured some hard-won progress. Yet, on the contrary, a backward slide for boys has ominous potential for females who, in the end, must share their world with males."
The Reading Zone featured an excerpt on what a reluctant reader is and how to help him. "If we had to boil all the advice into a sentence, it would be: Get him reading one-on-one with someone."