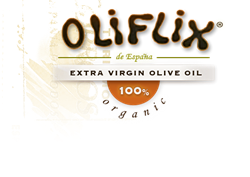 Gold Winner of the Great 2012 Euro Great Taste Award - 100% Organic Cold-Pressed Non-GMO Extra Virgin Olive Oil
(PRWEB) September 13, 2013
HOW TO GET AN OLIFLIX FIX AND TASTE REAL OLIVE OIL… PERHAPS FOR THE FIRST TIME
ALL OLIVE OIL IS NOT EQUAL!
Shocking but true! North Americans have likely never tasted real olive oil. Many olive oils are cut with inferior oils such as canola or corn. Worse still is the revelation that some olive oil brands do not even contain an ounce of actual olive oil. To be sure that the olive oil is real, always check the bottle and look for the International Olive Council seal of approval or simply purchase OliFlix.
Although new to North America, OlifFix is not new to the olive oil world. Farmed from olive trees whose average age is 600 years old, the artisanal brand has finally arrived in the new world, and it's a game changer. Tasting Oliflix olive oil is like trying olive oil for the first time. Not only does it taste entirely different, this organic olive oil is made with the olives from 600-year-old olive trees. The result is a supercharged oil with powerful antioxidants and other phyto-chemicals that offer phenomenal health benefits.
RAW FOOD PIONEER BRINGS OLIFLIX TO NORTH AMERICA
James Stewart is a renowned figure in the raw-food movement. While Los Angeles locals loved him for his discerning eye for sourcing exceptional produce and raw milk products, the nation learned of him after the FDA apprehended him at gunpoint charged with the crime of … "selling raw milk."
After a long fight, James Stewart was released and it did not take long for him to get back on track with ensuring that his clients again had access to products endorsed and sold during his Rawsome days. That being said a recommendation from James is a valued endorsement and OliFlix is a natural fit for this raw food visionary.
WHY OLIFLIX?
OliFlix is located in the Catalonia region of Spain. The trees in Flix have been producing organic olive oil since before the United States was even a country. Some OliFlix trees are close to a thousand years old, which makes them perfect for delivering flavorful, rich, and antioxidant-filled oil.
Using stone mills built in 19th century, Spanish organic beekeeper Antonio Rey Sole resurrected stone mills built in the 1800s to produce his own olive oil and recreate the original artisanal olive oil production process. The result is a truly divine organic olive oil. The incredibly fruitful trees, which are only watered by rainfall, bear a pristine level of quality olives.
In addition, Antonio`s hard work produces an organic, non-GMO olive which is truly cold pressed and it has made OliFlix a global success story.
OliFlix is handmade by locals with a passion for perfection and a true artisanal spirit. This is olive oil as it is meant to be: complex, strong, and robust. Thanks to OliFlix North America, it is no longer necessary to travel to Spain to taste this heavenly oil. To help keep the olive oil fresh it is bottled in a dark green bottle to block harmful lights and prevent heat from altering the delicate oil.
THE HEALTH BENEFITS OF OLIVE OIL
Olive oil is very high in monounsaturated fatty acids, also known as MUFA. These fatty acids have tremendous overall health benefits including:
Weight loss
Lower cholesterol
Lower risk for stroke and heart disease
Enhanced brain function
Glowing skin
HOW TO SPOT A FAKE
Many of the olive oils sold in stores are not made from olives, and many mass-produced olive oils are actually primarily other oils mixed with a small amount of olive oil. This problem has become so persistent that the European Union has exposed and regulated the industry.
Here are a couple of key things to look out for:
Fake olive oil, or even just very low-grade olive oil, will often come in a clear bottle. Like a fine wine, olive oil needs to be protected from direct sunlight and heat in order to stay fresh. If it comes in a clear bottle, it's scent, taste, and health benefits are greatly diminished.
Olive oil should smell fruity, rich, and of course, like olives. Knock-offs will smell more like hazelnut, or they carry a musty odor instead. These fakes can be described as "one-note oils." (By comparison, OliFlix will have a symphony of notes that are detectable on every palette).
Always look for the International Olive Council (IOC) seal to ensure purity.
ONLY SETTLE FOR THE BEST
OliFlix award-winning olive oil is guaranteed to be the best and purest artisanal olive oil. Supported by a strong Spanish tradition of excellence in olive oil making, OliFlix has elegantly stood firm in preserving the highest standards of craftsmanship.