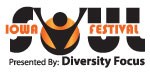 The Iowa Soul Fest is a celebration of the positive impact that diversity brings to our community. This is a chance for all of us to come together to sing, dance and enjoy each others' company. - Chad Simmons, Executive Director of Diversity Focus
Iowa City, IA (PRWEB) September 12, 2013
The Iowa Soul Festival is a Summer of the Arts celebration on September 13-15th in Iowa City that features the dance, music, food and art of the African and African-American communities.
The three-day free event in the 100-300 block of Iowa Avenue, Downtown Iowa City will feature locally, regionally and nationally recognized artists. Listen to blues, gospel, R&B and Jazz throughout the festival.
Hancher kicks off the event with Buddy Guy Friday night. Mint Condition hits the stage Saturday night.
Enjoy Iowa Soul Festival paid affiliate events including the Englert Theater who hosts Mobb Deep on Friday night at 9 p.m. and KCCK's Gospel Brunch on Sunday at 10:30 a.m. and noon.
Live entertainment, soul food, African-American inspired art, a FUN Zone for the kids, and much more!
Click here for a full schedule of events.
Diversity Focus was established in 2005 as a non-profit organization devoted to enhancing the diversity of the seven counties that make up the Creative Corridor.
Diversity Focus Vision: Diversity is the crucial link to economic, cultural, academic, and technological success. Diversity Focus' vision is for the Corridor community to be the model of inclusion that values, nurtures, attracts, and retains people of diverse backgrounds, cultures and beliefs.