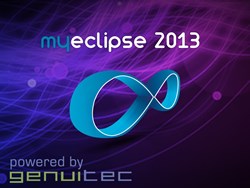 MyEclipse SR2 Eclipse Java takes to heart the idea of rapid development
Dallas, TX (PRWEB) September 16, 2013
Genuitec, LLC, a founding member of the Eclipse Foundation and a leader in Cloud Control technologies, is proud to announce the second service release for MyEclipse 2013 IDE Eclipse Java with new capabilities designed for the rapid design and prototyping of mobile and legacy apps. Customers are now able to utilize hot-sync capabilities of the Mobile Web Simulator in conjunction with new jQuery Mobile support to speed up the development process by allowing for instant visual adjustments of image and styling designs.
"Today's developers are tasked with a steady stream of technology updates, making the pressure to roll out updates to new and legacy applications a constant challenge," said Todd Williams, vice president of technology at Genuitec. "Given this challenge, we're excited to introduce new hot-sync and rapid prototyping features in our Mobile Tools to help developers stay on top of increasing output demands."
The new Mobile Web Simulator (SIM) in MyEclipse 2013 Service Release 2 will offer developers technology to reload the SIM automatically when changes are made in the IDE. Changes to styling and images will appear in the SIM instantly without requiring a page reload to improve development process time. In addition, the SIM has enhanced PhoneGap support to provide for the usage of the InAppBrowser API.
MyEclipse SR2 takes to heart the idea of rapid development with User Template Support and new jQuery Mobile Widgets. User template support has been added to allow developers to create custom app templates. With the creation of custom app templates, users will be able to rapidly design apps with minimal tweaks to the design and share these templates among their teams. Additionally, new jQuery Mobile Widgets have been included, granting developers the freedom to utilize a Palette and Wizards in the visual designer to eliminate the need for coding jQuery by hand.
For our IBM WebSphere clients, MyEclipse 2013 SR2 Blue edition will include all of the aforementioned enhancements to MyEclipse but will also allow support for the WebSphere Portal Server version 8.0.
Subscriptions to MyEclipse, MyEclipse Pro and Blue Editions are available annually for about US $30, $60 and $160 respectively.
The MyEclipse 2013 SR2 workbench is available for download at http://www.myeclipseide.com, and all editions come with a free 30-day trial. Free trial users and those with current subscriptions receive all updates at no cost. Advanced Service Agreements (ASA) are now available and can be added at any time.
Customers interested in adding an ASA to their subscription are encouraged to contact our sales team at sales(at)genuitec(dot)com with their subscription information to allow our team to put together a customized quote.
About Genuitec
With year-over-year growth since the company was founded in 1997, Genuitec follows a "Cloud Control" approach and continues to expand by offering superior products to enterprises at value-driven cloud prices. With a laser focus on mobile development for the enterprise Java user, its products are used by more than 17,000 global enterprises which include 80 perfect of Fortune 500 companies.
Genuitec maintains a vibrant community through its support forums where users engage directly with staff to answer any number of technical needs. Genuitec is constantly evaluating market opportunities for new areas of growth and expansion of its current application lifecycle management and mobile tools; in addition, Genuitec has launched a new product in each of the last 5 years. As fully distributed and virtual workforce, the company maintains a low overhead, yet attracts the most talented software developers.
Genuitec is based in Flower Mound, Texas and is founding member of the Eclipse Foundation along with IBM, Intel and HP.
Please follow Genuitec's latest news by joining "MyEclipse" on Facebook and on Twitter @Genuitec, @MyEclipseIDE.