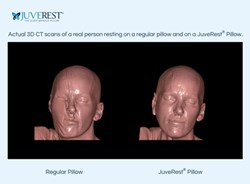 "There's definitely something good to be said about its (JuveRest's) lofty claims. The contours and ridges cradle your head, allowing your face some breathing room. You feel weightless. Whichever side you choose (and you can always change it up!), you'll
Las Vegas, NV (PRWEB) September 12, 2013
A brand new, multi-patented beauty product engineered to reduce facial wrinkles caused by recurring facial compression during sleep returns to air on QVC Sept. 18 at 9 a.m. and again at 11 a.m. EDT. Already a QVC best seller after its initial airing on Aug. 15, JuveRest® The Sleep Wrinkle Pillow will again be presented to QVC audiences by Dr. Goesel Anson, the nationally recognized, board-certified plastic surgeon who invented the pillow, recognized for its revolutionary design and shape and function.
"The invitation to return for second and third shows so soon after the initial appearance on QVC says it all," said JuveRest LLC's managing member, Cynthia Callendar, of Anson's upcoming appearances on the world's largest multimedia retailer. "JuveRest has already achieved QVC Best Seller status, and we are very excited for yet another opportunity show how our pillow can help reduce facial wrinkles. Watching Dr. Anson's demonstrations of how sleep wrinkles form and how JuveRest works to prevent them is very eye-opening. We have been hearing a lot positive feedback from those who are using the pillow."
According to popular blogger Kelly Cook (snobessentials.com), "There's definitely something good to be said about its (JuveRest's) lofty claims. The contours and ridges cradle your head, allowing your face some breathing room. You feel weightless. Whichever side you choose (and you can always change it up!), you'll have incredible posture while sleeping so that you never wake up with a crick in your neck or sore shoulders…you'll never go back once you've slept wrinkle-free! "
JuveRest The Sleep Wrinkle Pillow features a unique contoured shape specifically designed to minimize facial contact with the pillow, a common cause of facial wrinkles. JuveRest provides proper support in both the back and side sleeping positions for a restful night's sleep.
Comfortable, affordable and easy to use, JuveRest The Sleep Wrinkle Pillow is molded from specially formulated, high-quality resilient foam. This unique and attractive pillow comes with a washable, soft and luxurious, fitted, stretch-velour cover. The pillow can be additionally covered with any queen or king size pillowcase or sham. It has been awarded US Utility and Design Patents (8,161,588 B1 and D634, 960) and many foreign patents, including the European Union countries and Asia.
Get more information on JuveRest and sleep wrinkles:

About JuveRest® The Sleep Wrinkle Pillow
JuveRest The Sleep Wrinkle Pillow, a product of JuveRest LLC, is the premium pillow on the market engineered to minimize sleep wrinkles. Invented by a leading plastic surgeon, Goesel Anson, MD, FACS, JuveRest is an innovative, multi-patented product designed to inhibit wrinkles caused by facial compression during sleep. Sleep wrinkles are distinctly different from wrinkles caused by expression during natural aging and can only be prevented by minimizing distortion of the face during sleep. The JuveRest Pillow is designed to encourage comfortable back sleep while also accommodating comfortable left and right side sleep with minimal facial contact. Dr. Anson, a Las Vegas-based, board-certified plastic surgeon, is nationally recognized for her expertise in aesthetic plastic surgery of the face and her skills are highly sought by celebrities, personalities and other influencers. She is often called upon for expert commentary by such national media outlets as The Discovery Channel, The Learning Channel, SKY TV, New Beauty and many others. JuveRest LLC was co-founded by Dr. Anson and Cynthia Callendar, a Las Vegas attorney and entrepreneur with a track record of developing successful consumer and beauty products, including the Sleep Master® sleep mask. For more information, visit http://www.juverest.com.