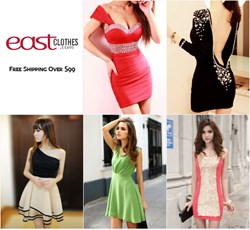 Customers can earn every time they shop and accumulate enough points for accessories, sale items or gift vouchers.
Guangzhou, China (PRWEB) September 13, 2013
Popular online clothing manufacturer and retailer Eastclothes is proud to announce their exciting new E Points program plus an exclusive 10% discount to customers. This promotion is being launched as part of the Eastclothes Mid-Autumn Festive event and offers customers a chance to earn rewards whenever they shop with the popular clothing brand.
"We're really excited to be launching our E Points program. Not only can our customers enjoy our fabulous collections and discounts. They can also gain further rewards whenever they shop with us. As a member of the E Points program, customers can accumulate points to spend in store as well as enjoy other discounts as they are launched. The E Points program and our Autumn 10% discount is our way of saying thank you to our new and loyal customers and giving a little something back," said a company spokesperson for Eastclothes.
The E Points program allows customers to earn 1 E Point for every dollar they spend at Eastclothes. Once the customer reaches 100 points, they will have $1 to spend on Eastclothes merchandise.
Customers will earn 10 E Points when they spend $10.00 on their order (excluding shipping cost). Points are redeemable when they reach a total of 100 E Points. These points can be spent on the following:
1) Redeeming for cash; This cash can only be used to spend on Eastclothes purchases
2) Exchanging for Eastclothes coupons
3) Redemption for products with collected points and added payment
4) Other activities irregularly held at Eastclothes.com
Loyalty programs like E Points prove to be very popular with customers, and encourage brand loyalty and repeat shopping in a short span of time in order to accumulate points. Eastclothes expects their E Points program to be very popular with their customers, and will be promoting the program with events online including discounts and offers that are exclusive to E Points members.
"We wanted to create a buzz around Eastclothes and a loyalty program seemed the obvious choice. Customers can earn every time they shop and accumulate enough points for accessories, sale items or gift vouchers. We have an extensive range of clothing online that just has to be seen to be believed in and our E Points program is just another benefit we have to offer to our customers," said a spokesperson for the company.
The E Points program is free to join and is open to any customer shopping with Eastclothes. Every new member that registers for the E Points program at Eastclothes.com will automatically be awarded 100 E Points and a further 100 E Points if they recommend a friend. Points can also be accumulated by writing reviews for Eastclothes after an order has been placed, for uploading photos of EastClothes products, for uploading video about Eastclothes products or for blogging online and linking back to Eastclothes.com.
Customers can register for E Points now by becoming a member of the Eastclothes website and enjoy a 10% Autumn discount on any Eastclothes purchase by entering 'autumn10' at checkout.