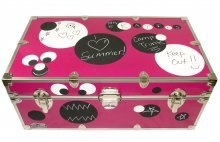 Our trunk decals are always a pretty hot item.
Boyd, WI (PRWEB) September 12, 2013
Camp trunks are elegant pieces, aren't they? Romantic and intimate treasure boxes—whether they're used to hold daily essentials or our most prized possessions—contained within them are our own little worlds, locked up safe and secure!
As appealing as the sight of a classic camp trunk can be to the eye, it can also be fun to spruce it up a bit with the style of the owner. Some people like to take their trunk in a jazzier direction. There's a plethora of different ways to give a camp trunk a different style than the old, rough, and rugged look.
Bring a lot of personality in removable, vinyl decals to a camp trunk to spruce it up. Have fun decorating a trunk with favorite characters from favorite television series or video game. These decals bring a much more lighthearted look to camp trunks.
If a different, less cartoony look is desired, a great number of stores sell a great number of basic and generic, yet very cool decals. "Our trunk decals are always a pretty hot item," says Ryan Kohls of the Shipping Department at Everything Summer Camp.
Everything Summer Camp is an online summer camp outfitter to help campers fulfill their packing list and enjoy their summer camp experiences. This shop has a wide variety of decals to meet all different personalities and styles for camp trunks.
Everything Summer Camp offers Rock N Roll style decals to express crazy love for those hot, electric tunes. They have rock decals designed for girls and rock decals designed for boys. Add some animals to a camp trunk or go with the Glow-in-the-Dark Moon & Stars as well as Glow-in-the-Dark Butterflies for a quieter, but still just as cool camp trunk look.
About Everything Summer Camp
Everything Summer Camp has been helping kids get ready for summer camp since 1987. Their wide selection of camping gear includes camp trunks and other camping supplies. Top selling items include water bottles, cot-sized bedding, rain jackets, insect repellent, iron on labels, and more. Known for their customer service and fast shipping Everything Summer Camp is a division of C&N Manufacturing and is recommended by more camps than any other camp outfitter.
Visit http://www.EverythingSummerCamp.com to learn more about camp footlockers, name labels, duffel bags, and camping supplies.