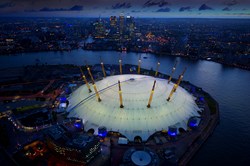 Matt Janes, Founder of DoingSomething.co.uk "If climbing the roof of the O2 and playing Pingpong doesn't give you something to talk about on a first date, we don't know what will!."
London (PRWEB UK) 13 September 2013
The UK's leading activity based dating site, DoingSomething.co.uk is taking over the roof of The 02 and turning it into an 80's themed sporting arena.
It's the first of DoingSomething's six month roof residency - one a month - where Singletons get an experience which will really help them get to know each other. 120 Single climbers will ascend the roof of the 02 in 80's gear in groups of 30. 15 men and 15 women at a time. Fastened to the guide rail at angles of up to 30 degrees by a carabiner, it's not a climb for the faint-hearted.
At an altitude of 52m they'll unclip and meet other single climbers on the viewing platform which has been transformed into an 80's competitive sporting mini-fest. Then it's time to do battle. Expect Ping Pong. Expect Swingball. Expect Giant Connect 4. How the balls will stay on the Ping Pong table is a closely guarded secret. High winds are expected to be a factor. Space Hoppers are also scheduled for a rooftop outing. Although jumping height will be strictly monitored to avoid any over zealous hoppers ending up in the Thames. Daters then descend the roof. And go onto an 80's themed after party where they can compare notes. And challenge other Singletons to Ping Pong re-matches.
Matt Janes, founder of DoingSomething.co.uk, comments: "DoingSomething.co.uk are the saviors of Internet Dating. We're hear to rescue people from the drudgery of the drinks-in-a-pub 'Interview' date. And suggest experiences that will give people plenty to talk about. And if climbing the roof of The 02 and playing Ping Pong on top of it doesn't give you something to talk about , we don't know what will'.
'And it also gives a somewhat original answer to that awkward question 'so how did you two meet''