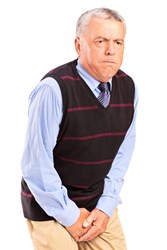 Lifestyle changes which can go some way in lessening the impact of this condition include pelvic floor exercises, reducing caffeine intake, stopping smoking, and weight loss.
London (PRWEB UK) 13 September 2013
Urinary incontinence, the unintentional passing of urine, is a very common problem and is thought to affect millions of people worldwide, causing considerable resource implications for the health service.
It is not clear exactly how many people are affected, but it is estimated that between three and six million people in the UK have some degree of urinary incontinence. Twice as many women are afflicted than men with 46% of women, attending a primary care clinic, report having urinary incontinence. 1
The causes of urinary incontinence depend on the type of condition, with 9 out of 10 cases being either stress urinary incontinence, urgency urinary incontinence, or mixed urinary incontinence, each of which has a different care pathway based on the predominant symptom.
Stress incontinence is usually the result of the weakening or damaging of the muscles that are used to prevent urination, such as the pelvic floor muscles and the urethral sphincter. Urge incontinence is usually the result of over activity of the detrusor muscles, which control the bladder. 2
Urinary incontinence can be an uncomfortable and upsetting problem that has substantial implications for the individual and family. Though it is more common as you get older, many people wrongly believe that it is an inevitable part of ageing.
Several forms of effective treatment includes lifestyle changes, muscle and bladder training, and if these measures do not work, medication or surgery may be advised. Medication for both forms of incontinence targets the type of ability needed to give control to the bladder, either to the muscles of the pelvic floor or directly to the urethra. 3
New treatments such as botulinum toxin A and surgical tapes for mid-urethral procedures have become available, along with some new and surprising variations, such as the drug Botox (this is botulinum toxin A), better known as an anti-wrinkle aid, that helps control the muscular bladder wall. Botox treatment is thought to help dampen chemical messages that your bladder uses to tell the brain that you need to urinate.
NIHCE says those with "overactive bladder syndrome" that has not responded to recommended lifestyle changes should be offered the injections. The injections are administered directly to the bladder wall via a small device inserted into the urethra - the tube you urinate through. Clinical trials suggest this treatment may last for up to six months, but NIHCE says people also need to be aware of the possible side-effects.
Prof Mark Baker, director of the Centre for Clinical Practice at NIHCE, said: "Urinary incontinence is a distressing condition affecting the lives of millions of people of all ages. While rarely life-threatening, it may seriously influence a person's physical, psychological and social well-being.
"Over the years we have seen an increase in women seeking treatment, yet many others are still suffering in silence and not receiving the appropriate care for their condition. This updated clinical guideline suggests a range of treatments that women should be able to access to limit the distress that urinary incontinence can cause." 4
ChemistDirect's Superintendent Pharmacist Omar El-Gohary states: "It is important that if undiagnosed, any sufferers of urinary incontinent should see a healthcare professional as soon as possible. Whilst there are several treatment options available such as Botox treatment, these will not necessarily treat all forms of the condition. Lifestyle changes which can go some way in lessening the impact of this condition include Pelvic floor exercises (which can help patients with stress incontinence), reducing caffeine intake, stopping smoking, and weight loss".
References:
1) http://www.bmj.com/content/347/bmj.f5170
2) http://www.nhs.uk/Conditions/Incontinence-urinary/Pages/Introduction.aspx
3) http://www.nhs.uk/Conditions/Incontinence-urinary/Pages/Treatment.aspx
4) http://www.bbc.co.uk/news/health-24029518