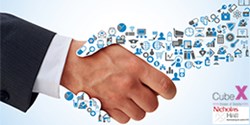 Learn about the Emerging OTC Market - India at must-attend event
UK (PRWEB UK) 13 September 2013
On the 22nd of November 2013 at the Westin Mumbai, Nicholas Hall, CEO & Chairman of Nicholas Hall Group of Companies, will be making a special guest appearance. This OTC event, hosted by CubeX - a division of Sorento - in association with Nicholas Hall & Company will be focusing on the theme of 'Innovation in OTC Business: From Concepts to Actions.
Nicholas Hall will be joined by a host of experienced industry leaders who will each share their knowledge of innovation in OTC, and how these innovations have pushed the industry forward.
Join CubeX and Nicholas Hall & Company at this event to learn, share and meet peers. A panel discussion will provide delegates with latest views and opinions on this very subject focused on the India Market. For anyone planning to grow in this emerging OTC market, this is a must-attend.
The Agenda:
Session 1:New Thinking, New Realities in the OTC Industry
Session 2: Creating Value-Added OTC Business through Innovation
Session 3: Technology as a Catalyst for Innovation
Session 4: Stimulating Innovation
For the Full Agenda, please visit the Nicholas Hall Events page: http://www.NicholasHall.com/Events
To book a place, please contact Jennifer O'Donnell at jennifer.odonnell(at)NicholasHall(dot)com or visit the Nicholas Hall Website.
About Nicholas Hall Events
Nicholas Hall leads most of our conferences personally. He is supported by a panel of guest speakers from the OTC industry and by specialists from the allied worlds of finance, advertising and regulatory affairs. The conferences are designed to explore topical subjects and discuss future developments in consumer healthcare.
About Nicholas Hall, Chairman & CEO
Nicholas Hall has decades of experience in the consumer heath industry. His profile can be read here: http://www.nicholashall.com/profile-of-nicholas-hall-ceo/
Contacts:
Media Contact: val(dot)tsang(at)NicholasHall(dot)com
Event Contact: jennifer(dot)odonnell(at)NicholasHall(dot)com
Website: http://www.NicholasHall.com/events