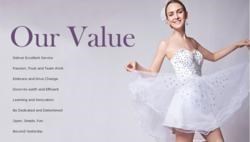 (PRWEB) September 12, 2013
DressyProm.com is a leading brand in the industry for its high end prom dresses. Today, the company announces its new collection of "Prom Dresses 2014 Under 200". According to a spokesman for the company, all these designs are especially for 2014, following the latest fashion trends in the industry.
Now, people can find the special offer on all its new prom dresses at http://www.dressyprom.com/2014-Prom-Dresses_5, and the discount is up to 60% off. These fashion-driving dresses are offered especially for all women worldwide and dress distributors in the industry. Moreover, custom designs are also available here. No matter what type of prom dress a lady is looking for, the company can provide something she needs for her.
The demand for high end prom dresses has been increasing greatly, and the company's skilled workforce follows up with the growth of this market, i.e. the company has enough human resources to do anything it wants to do.
A customers said, "From everything we've seen for this upcoming season, the fashion industry is in full agreement: DressyProm is in. Their designs and prices are always affordable to most women. All clothes and styles can be purchased on the company's retail website."
DressyProm.com's business covers the market in the Americas and the APAC regions. The company's clients, who are typically fashionable women, have the option of making a custom design without any extra cost. The frequently updated website of DressyProm.com provides consumers with a great selection of products from various designers.
About DressyProm.com
DressyProm.com is one of the world's leading wedding dress manufactures and retailers, offering a wide range of unique prom dresses, modest prom dresses, wedding dresses, bridesmaid dresses, evening dresses, cocktail dresses, and more. The company aims to deliver ladies worldwide all kinds of dresses at acceptable prices.
More information can be found at: http://www.dressyprom.com/