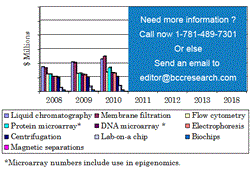 Wellesley, MA (PRWEB) September 15, 2013
According to a new technical market research report, Separation Systems for Commercial Biotechnology from BCC Research (http://www.bccresearch.com), the global market for commercial biotechnology separation systems was valued at $16 billion in 2012 and is expected to reach $17.1 billion in 2013. BCC Research projects the market to reach nearly $27.8 billion by 2018, and register a compound annual growth rate (CAGR) of 10.1%.
As an application of commercial biotechnology, protein separation systems are playing an increasingly important role in new biopharmaceutical development. Protein separation systems do not require U.S. Food and Drug Administration (FDA) approval, but the products produced from these processes do, and they must be produced in accordance with FDA good manufacturing practices (GMP) guidelines. Thus, separation processes and equipment such as protein microarrays, lab-on-a-chip, biochips, DNA microarrays, flow cytometry and magnetic separation must pass FDA audits of the manufacturing process.
The biomolecule separation market is positioned for significant growth in the next five years. This is due to new protein and other biomolecule products that will require separation technology, as well as new innovations in the technology itself. The development of proteins as biotherapeutic agents against a number of human diseases by the biomedical and pharmaceutical industry is helping the industry achieve a higher growth rate. The recognition of this technology in emerging markets such as Japan and the Pacific Rim countries is also expected to contribute to further growth. In addition, continued global growth is expected to accrue as a result of the growing middle class in countries such as India, China, Brazil and Russia.
This comprehensive market analysis presents an overview of the global markets for biotechnology separation systems, and forecasts trends and sales in these markets through 2018. It also examines the separation process for a variety of biomolecules, including proteins, RNA, and DNA. This information will allow the reader to evaluate and quantify the current market size for specific separation systems within the growing biomedical and pharmaceutical technology market.
In addition, this report includes analysis of the leading competitors, as well as emerging companies in the current global biomolecule separation market. Profiles of the manufacturers are analyzed and their specific product strategies are outlined. This report notes companies that are poised to introduce new products during the forecast period and discusses how these products may change the face of the competitive environment. This competitive environment is examined with a special focus on the ways in which developing products and technologies are influencing the current standard of patient care.
This comprehensive technical market research report is an invaluable tool for business planners, acquisitions specialists, licensing strategists, product managers, market research analysts, investors, investor consultants, and anyone interested in the biomolecule separation market, its products, industry participants, and its future.