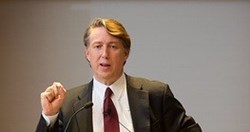 His unrivalled expertise in Green Chemistry will be invaluable to our mission at Ecochem.
(PRWEB UK) 18 September 2013
Anastas completes the all-star dream team of Green Chemistry experts and chemical industry leaders that help to shape the Ecochem Conference programme.
Those already confirmed on the Advisory Board for this free event include:

John Warner (Warner Babcock IGC),
James Clark (University of York),
Martyn Poliakoff (University of Nottingham),
Jim Iley (Royal Society of Chemistry),
Anne Wallin (Dow Chemical), and
Andreas Kuenkel (BASF), as well as many more.
Paul Anastas is considered to be the father of Green Chemistry, having coined the term in 1991 in his job as a chemist at the U.S. Environmental Protection Agency.
He co-authored two seminal works on Green Chemistry & Engineering that laid the foundations for sustainability within the industry; these works are still highly relevant and widely used today.
Anastas helped establish the U.S EPA's Presidential Green Chemistry Challenge and has also been director at the American Chemical Society's Green Chemistry Institute. He was chosen by U.S. president Barack Obama to be the assistant administrator for the Office of Research and Development at the EPA.
We are privileged to welcome Anastas to the Ecochem community and look forward to working with him in the future.
Speaking about Ecochem, he said: "I love the program that you've put together and really admire how you have it structured. It looks like you are on your way to a tremendous conference."
Nick Hawker, founder and managing director of the Ecochem Event, said of Anastas's participation: "We are extremely pleased to have Paul on our Advisory Board. His unrivalled expertise in Green Chemistry will be invaluable to our mission at Ecochem."
The Ecochem Conference & Exhibition on Green & Sustainable Chemistry & Engineering is an event to be held in Basel, Switzerland in November.
It will bring together industry leaders, scientists, experts and governmental organisations to discuss, present and share novel materials, products, technologies, processes and ideas on Sustainability - all with the aim of transforming the chemical industry and minimise its toxicological impacts on health and the environment.