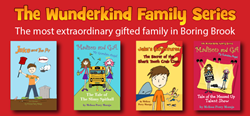 An entertaining, family-friendly Web site for the next generation of young readers!
Charlotte, NC (PRWEB) September 13, 2013
Melissa Perry Moraja, CEO of Melissa Productions, announced today the launch of her second children's book series website—http://www.wunderkindfamily.com. The site brings the extraordinarily gifted Wunderkind Family characters to life online with entertaining, family-friendly content.
The site aims to enrich young reader's lives by providing original content and a safe space for them to interact with the characters. Each Wunderkind sibling will have their own area, where fans and followers can find out what they have been up to, meet their friends, and learn more about their extraordinary abilities! With parental consent, children can even ask the characters questions, where some will be posted on the site.
Today, Madison Wunderkind's, one of the book's spirited characters, area was created and launched. Madison's area, affectionately named after her, is called Madison and GA Angel Area. It's a colorful, friendly space with a kid-narrated perspective. Jake's Adventures Zone of Awesomeness will be live by the end of 2013, while Josh and the Gumshoe News Crew is scheduled to be launched spring of 2014. To date, there is no set date for the youngest Wunderkind sibling's, Isabella, area.
The Wunderkind Family series is a collection of humorous, modern-fantasy stories, each told by one of the four whimsical Wunderkind sibling characters, about what it's like growing up as a kid with extraordinary abilities in an unusual, yet charming family. (Target age: 6 – 12 years old)
About Melissa Productions, Inc.:
Melissa Perry Moraja is an entrepreneurial mom, a multifaceted business woman and a creative producer, authoring and illustrating numerous children's stories and self-help books. Founded in 2009, Melissa Production's mission is to offer humorous, inspirational products and services that promote self-awareness, creative learning, and leadership with the family in mind. With popular story book characters like Splatter, she speaks to children's hearts through humor and parents thoughts by providing educational stories. For more information, please visit http://www.melissaproductions.com.
Contact:
Melissa Perry Moraja
Founder and CEO, Melissa Productions, Inc.
704-246-7304
melissa@melissaproductions.com