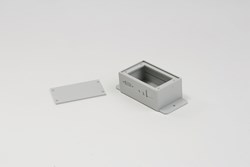 PCB's can be mounted in a variety of ways within electronic enclosures produced by NMR.
St. Paul, MN (PRWEB) September 17, 2013
In our last article, the topic of manufacturing custom water resistant enclosures was discussed with respect to their construction/design method. Another important design feature that must be addressed when using NMR Technology is how the PCB board(s) or electronics will be mounted inside the custom plastic housing.
PCBs can be mounted in a variety of ways within electronic enclosures produced by NMR. If the PCB is laid out with forethought, cost efficiencies are in place as is ease of assembly by the end user. PCBs which have all the components mounted on a single side, with enough clearance on the edge perimeter, may be able to be snapped into place into the side walls of an enclosure - most notably, a UU housing. Sometimes in this case, the connectors themselves protrude through the side wall and keep the PCB from moving in the plastic housing. The snap-fit option is also possible if connectors are on opposite sides of the PCB. However, all snap-in applications are implemented on a case by case basis as there are many factors to take into consideration when designing an enclosure with electronics.
If the components of the PCB are on adjacent sides, it becomes almost mandatory to use standoffs to secure the printed circuit board. The standoffs we use can be a custom milled boss with a threaded brass insert or a standard molded boss with a brass insert may be used to mount the PCB. This method is more costly; however, it is necessary for functionality.
At times, PCB enclosures may also be potted. The bottom section of the plastic housing is solvent welded in a manner to contain potting solution that would encompass the electronics (PCB) inside the plastic enclosure.
On the whole, there are a couple main drivers of the design (and thus, price point) of custom plastic enclosures made with the NMR Process. The first is the functional enclosure design itself (discussed in prior installments in this series). The second is the PCB component layout. Accessibility to the electronics inside the plastic enclosure is certainly of utmost importance for functionality.
In the next part of this series on How to Design Enclosures Using the NMR Technology, outside aesthetics will be addressed. These options would include silk-screening, labels, and digital printing.