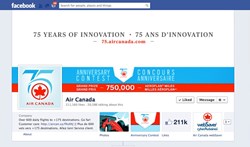 "Our team is passionate about sharing Air Canada's story in a constantly evolving multi-channel world." Raymond Girard
(PRWEB UK) 12 September 2013
Global content agency, Spafax, today announced that it has been reappointed by Air Canada, Canada's largest airline and leading 4-Star International carrier. The global content agency has been entrusted to continue expanding and leading its award-winning multi-channel content and entertainment platform, Air Canada Media. The renewal of the contract consolidates an 18-year relationship.
Spafax will identify new ways of engaging Air Canada customers across all Air Canada Media channels including: Print (award winning Air Canada enRoute magazine), experiential promotions and events as well as multiple new and exciting digital and social media channels.
Air Canada's Vice President, Marketing, Craig Landry said:
"Valuing our customers is the cornerstone of the Air Canada brand, therefore it's crucial that we get our content offering right. Spafax has impressed us by continually stepping beyond the brief to connect with our passengers in innovative, meaningful ways."
"Air Canada Media is a strategic priority for our business because it allows us to connect with passengers on an emotional level and enhance their travel experience."
"By renewing our relationship with Spafax, we will be able to take our vision for this innovative platform to the next level and establish Air Canada Media as one of the country's most successful cross-platform media brands."
Raymond Girard, President, Content Marketing, Spafax said:
"Our team is passionate about sharing Air Canada's story in a constantly evolving multi-channel world. The opportunity to connect beyond flight is huge and we'll be launching new platforms tailored to the changing needs of modern travelers and the brands that want to connect with them throughout the entire customer journey."
Niall McBain CEO Spafax said:
"We are delighted that after 18 years we have been chosen to continue to develop the Air Canada Media offering."
"As digital media and entertainment possibilities reach previously unthinkable heights, here at Spafax we are excited to respond to the changing expectations and interests of Air Canada's sophisticated customers."
In the past year, Air Canada Media has won a raft of awards including:
Best in-flight magazine by CNN
Canadian Society of Magazine Editors - Winner, Custom Magazine of the year
Folio Awards – Best Website – Air Canada's enRoute
Gold Pearl Awards - Best Features Article
Magnum Opus Awards - Grand-Print Magazine, External Audience
Press contact
For interviews with Spafax or Air Canada or for further information please contact Alex Valentine Mandel, Schneider Bartosch Communications alex@schneiderbartosch.com 00 44 (0) 207 159 3470
About Spafax
Spafax is one of the world's leading providers of branded content solutions in the form of entertainment production and management, publishing and media sales. Other clients include British Airways, Cathay Pacific, Emirates, Etihad Airways, Fairmount Hotels & Resorts, Lufthansa, Mercedes-Benz and many more. Spafax is headquartered in London with further offices in Singapore, Kuala Lumpur, New York, Montreal, Toronto, Santiago, Dubai and Orange County. Spafax is a tenthavenue WPP company. http://www.spafax.com
Spafax facts and figures

25+ years negotiating with film and music studios
25+ years acquiring and commissioning content
25+ years working with the world's leading brands
#1 media group in the world: WPP
2 million consumers per day
About tenthavenue
tenthavenue's vision is to optimize performance wherever people engage with the world. tenthavenue's mission is to be the leading global company to identify and build tailored audiences and outcomes across multiple channels and devices. http://www.tenthavenue.com
About Air Canada
Air Canada is Canada's largest domestic and international airline serving more than 175 destinations on five continents. Canada's flag carrier is among the 20 largest airlines in the world and in 2012 served close to 35 million customers. Air Canada provides scheduled passenger service directly to 60 Canadian cities, 53 destinations in the United States and 67 cities in Europe, the Middle East, Asia, Australia, the Caribbean, Mexico and South America. Air Canada is a founding member of Star Alliance, the world's most comprehensive air transportation network serving 1,328 destinations in 195 countries. Air Canada is the only international network carrier in North America to receive a Four-Star ranking according to independent U.K. research firm Skytrax that ranked Air Canada in a worldwide survey of more than 18 million airline passengers as Best Airline in North America in 2013 for the fourth consecutive year. For more information, please visit: http://www.aircanada.com.