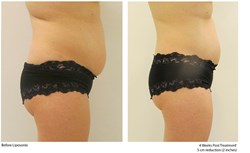 London, United Kingdom (PRWEB UK) 13 September 2013
111 Harley Street is one of two clinics in the UK to offer the ground breaking new Liposonix Custom Contouring Treatment.
Dr Yannis Alexandrides Head of Practice at 111 Harley Street Says; "As a plastic surgeon having performed hundreds of surgical body reshaping procedures, I have finally found a non invasive treatment that I can use successfully. The Liposonix Custom Contouring Treatment offers reliable fat reduction of tummy, waistline, as well as other parts of the body."
Unlike other non-invasive fat reduction treatments, Liposonix Model 2 System permanently destroys the fat cells found beneath the skin without harming the skin with just one treatment in a procedure that takes about one hour. The body naturally processes and removes the fat tissue over a period of 8 to 12 weeks, leaving behind the desired slimmer, more contoured waistline. Clinical studies have demonstrated an average waist circumference reduction of approximately 2.6 cm (1 inch) after a single Liposonix Model 2 System treatment.