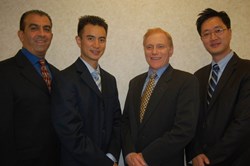 New York, NY (PRWEB) September 12, 2013
Need new dentures? Herald Square Dental and The Denture Center is New York City's destination for same-day dentures. The Denture Center can also perform same-day denture repairs and relines.
Some situations require immediate attention—an accident that causes a tooth to be lost, or dentures that are accidentally thrown away, damaged, or used by the family dog as a chew toy (this may sound funny, but it happens more often than one would believe).
For a limited time, Herald Square Dental & The Denture Center is now offering a complete upper or lower denture for $999! The offer expires on Sept. 30 and cannot be combined with any other promotion. Additional charges may occur for more complex cases. Call (212) 689-0024 for a free consultation or visit http://www.heraldsquaredental.com or http://www.denturecenter.com.
Herald Square Dental & The Denture Center offers same-day dentures and tooth replacement solution. Their in-house state-of-the art denture laboratory is equipped with all the necessary technology to produce a custom-made partial or complete denture, replace a tooth on the same day and service almost any denture problem. All of their dentures are hand crafted and custom made using the finest ADA approved acrylic and porcelain materials to ensure the highest quality and comfort. They specialize in custom-crafted special order traditional dentures, premium dentures with porcelain teeth, soft lined lower dentures for extra comfort and implant supported overdentures. In addition, partial dentures are available in flexible or metal frame bases.
Don't put up with the long waiting period typically involved with the repair or fabrication of a new denture. Most dental offices use outside labs and on average need four to six weeks to fabricate a denture. Herald Square Dental & The Denture Center have their own denture lab on the premises. They replace missing teeth on the same day, While-U-Wait!
Herald Square Dental has perfected the art of creating high quality, fine-fitting dentures and has become popular as New York City's same-day denture destination, while saving clients time and money. They are known for their continuous effort and commitment to produce the highest quality and affordable new dentures and denture maintenance services.
Herald Square Dental offers quality, convenience and affordability in a centrally located, full-service, state-of-the-art facility in Herald Square, New York City. Most insurance plans are welcome, several payment plans are offered in addition to senior citizen discounts.
About the company:
Herald Square Dental and The Denture Center is a full-service dental office offering everything from porcelain veneers and orthodontic care, including Invisalign to implants that replace missing teeth entirely. They are also well known for quality dentures custom fabricated right on the premises. Conveniently located in Herald Square in the heart of New York City, Herald Square Dental and The Denture Center has been known as New York's place for quality cosmetic dental care and same-day dentures since 1977. They are equipped with all the technology and comfort to optimally restore beautiful smiles successfully, affordably, quickly and conveniently. Dr.'s Pasch, Yam, Shirzadnia and Song and their friendly staff are highly-trained in fixing chipped, cracked or stained teeth with lovely new veneers. At Herald Square Dental and The Denture Center, they offer a wide range of affordable dental makeover options, including natural-looking porcelain crowns, tooth bonding and tooth-colored composite fillings.