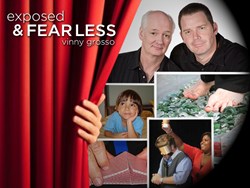 'My youngest son will graduate from college in May, I plan to give him a copy of the book to help guide him on the first steps of his adult life.' - Dal Sanders, backed the project on 9/4.
New York, NY (PRWEB) September 18, 2013
Vinny Grosso is in the business of doing the impossible, he is an internationally recognized magician. His illusions, however, pale in comparison to the real life stories he is writing about in Exposed & Fearless. Grosso draws inspiration from many of the people he knows and works with that really doing amazing, seemingly impossible things. From Colin Mochrie and Brad Sherwood, stars of the hit improv comedy show Whose Line is it Anyway, who create a new comedy show every night, to Banachek, a man who literally fooled scientists with his incredible feats of mentalism. Exposed & Fearless will reveal the secrets of how these and others went from ordinary to extraordinary and how you too can do the same.
Exposed & Fearless presents, in narrative, a behind the scenes glimpse into the lives of these remarkable people, providing the reader with first hand insight into how they captivate our imaginations. Grosso's personal experiences are neatly harmonized with stories of inspiration and motivation daring us to do the same. Imagine elements from a mind teasing magic show combined with a university lecture about overcoming fear intertwined into an inspirational book. It is an uncommon twist on the old familiar "Great book turned blockbuster movie" success story.
Exposed & Fearless was launched through Kickstarter on September 3rd, 2013. Within just two weeks it reached its funding goal with well over 100 backers pledging financial contributions in return for exclusive copies of the book and other rewards. Funding continues on Kickstarter.com through Oct 3rd, 2013. The buzz resonating through artistic and literature circles across the country is a true testament to the wide appeal of Exposed & Fearless. The accompanying Exposed & Fearless show, premiering in New York City on March 21st, 2014, will bring to life many of the stories in the book, infusing the emotion of a drama with the thrill and wonder of a magic show.
Vinny Grosso is a professional magician who served as National President of The Society of American Magicians from 2011-2012, a position held by Harry Houdini. In addition to performing corporate events throughout the US, Europe & Asia, in 2006 Vinny volunteered for two overseas tours performing for our troops through Armed Forces Entertainment. Vinny also manages the tours of numerous renowned comedians, authors, and television personalities – a role that has enabled him to interact with many of the incredible people featured in Exposed & Fearless.