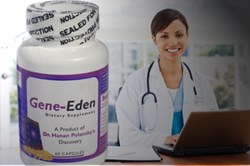 polyDNA recommends that before becoming pregnant, women begin taking Gene-Eden-VIR, a natural herpes remedy that helps the immune system target the latent herpes virus.
Rochester, NY (PRWEB) September 13, 2013
polyDNA's monthly survey, taken during August 2013, showed that many pregnant women with herpes are interested in understanding the complications that may arise from their infection. More specifically, these women wanted to know what happens if they pass the infection on to their babies. Therefore, polyDNA decided to answer this question on its website.
polyDNA found that up to 45% of respondents knew that the risk of transferring the herpes virus to the infant is highest during a woman's first outbreak. Most respondents did not know, however, that "the risk for severe infection in the baby is much lower in recurrent outbreaks" according to Medline Plus in a page last updated on March 22, 2013 (1). However, women with a history of genital herpes who have occasional or no outbreaks can also spread the infection to their babies, although this is rare.
polyDNA also points out that babies of women who become infected during pregnancy are at risk for premature birth. The baby may develop brain infection (meningitis, encephalitis), chronic skin infection, severe developmental delays, or could even die.
In addition, there are various symptoms a baby may exhibit when infected. According to the Boston Children's Hospital website on its Neonatal Herpes Simplex page, these symptoms include: irritability, blisters anywhere on the baby's body, trouble breathing, grunting, blue appearance (cyanosis), rapid breathing, short periods of no breathing, jaundice, and bleeding easily (2).
Thus, polyDNA recommends that women always let their doctor know that they have a herpes infection before giving birth. Many parents can also become frightened and may not understand everything that is happening to their baby. Therefore polyDNA recommends asking as many questions as necessary for a full understanding.
In addition, polyDNA recommends that before becoming pregnant, women begin taking Gene-Eden-VIR, a natural herpes remedy that helps the immune system target the latent herpes virus. Gene-Eden-VIR was proven to be safe and effective in a recent clinical study. The study was published in the peer reviewed, medical journal Pharmacology & Pharmacy, in a special edition on Advances in Antiviral Drugs on August 12, 2013 (3).
The study showed that Gene-Eden-VIR reduced symptoms associated with a herpes infection. The study authors wrote that, "We observed a statistically significant decrease in the severity, duration, and frequency of symptoms (3)."
However, once pregnant, a woman should stop taking Gene-Eden-VIR as there have been no studies regarding its effects on pregnancy.
"The key to your health is to reduce the level of the latent viruses in your body to harmless levels." - Dr. Hanan Polansky
To learn more about Gene-Eden-VIR, please visit: http://www.gene-eden-kill-virus.com
References:
(1) http://www.nlm.nih.gov/medlineplus/ency/article/000857.htm
(2) http://www.childrenshospital.org/az/Site3235/mainpageS3235P1.html
(3) http://www.scirp.org/journal/PaperInformation.aspx?PaperID=36101
polyDNA is a biotechnology company that develops dietary supplements using the unique scientific method developed by Dr. Hanan Polansky, which is based on Computer Intuition.
In addition to his unique scientific method, Dr. Polansky published the highly acclaimed scientific discovery, called Microcompetition with Foreign DNA. The discovery explains how foreign DNA fragments, and specifically, DNA of latent viruses, cause most major diseases.
polyDNA developed Gene-Eden-VIR, an anti-viral natural remedy that helps the immune system kill latent viruses.