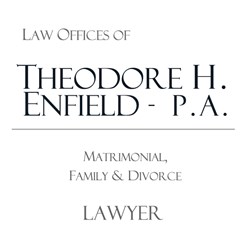 MIAMI, FL. (PRWEB) September 18, 2013
Many people get married every single day, and go on to have long and happy partnerships. However, in some cases, this does not happen. When one or both parties who have entered into a marriage want the marriage to end, they will normally assume they need to file for divorce. But in some cases, there is another option. Grounds for divorce vary, but they are mostly given on the basis that the marriage was legal from the outset. If the marriage was not technically legal, and one or both parties can prove this, then there may be a strong case for filing for an annulment. Everyone wants to believe that the person they have married has been truthful, and it can be devastating when they find out information that proves otherwise. When people in this situation start searching for divorce attorneys in Miami, they will usually find that Theodore H. Enfield's name appears high on most local listings.
Theodore H. Enfield, one of the most popular and sought-after Miami divorce attorneys, who has almost 30 years of experience, announces new guidelines for couples and individuals who are seeking an annulment of their marriage. The most important requirement, for any couple seeking an annulment in Florida, is to disclose all facts to their attorney. In order to present a case for annulment, a divorce lawyer must argue that there was fraud, bigamy, incest, or lack of consent, all of which would deem a marriage illegal. But annulment can also be granted on grounds of impotence, mental illness, insanity, or the influence of drugs or alcohol. If one or more of these factors are applicable, and can be proved, then an annulment is usually granted, says Theodore Enfield. There may also be a case for annulment on religious grounds, and where this is the case, people are advised to consult their clergy before moving forward with an application for annulment with their attorney. Obviously, the process of gathering evidence can be particularly distressing, but with the right guidance, this trauma can be kept to a minimum. Theodore H. Enfield is an expert in Prenuptial Agreements in Florida and also strongly advises couples to consider prenuptial agreement before entering into marriage. This is like an insurance policy. People do not generally take out insurance because they expect to injure themselves, or be burglarized. Nor do they sign a prenuptial agreement because they expect to divorce down the line, but it is an insurance policy in case the worst happens, and can help reduce the stress of the painful procedure of divorce. Theodore H. Enfield is well known and respected as a Fort Lauderdale divorce lawyer and has helped many couples through the difficult process of marriage annulment.
About Theodore H. Enfield: Theodore H. Enfield is a popular and well respected Miami Dade lawyer who has extensive experience in all aspects of family law, including divorce and annulments, alimony, property settlements, and domestic violence cases. For more information call 305-933-9592 or toll free on 800-733-5299, or visit theodoreenfield.com