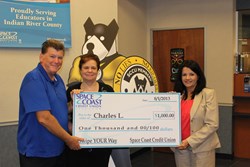 Melbourne, FL (PRWEB) September 12, 2013
One lucky Space Coast Credit Union (SCCU) member is $1,000 richer after winning the credit union's "Swipe Your Way to $1,000" sweepstakes. During the month of June, the credit union automatically entered members who used their SCCU debit cards 10 times or more into a drawing for $1,000. Entry forms were also accepted at SCCU's 57 branch locations.
The winner, Charles L. of Sebastian, Florida, was chosen at random from over 93 thousand entries. The grand prize was presented to Charles and his wife, Barbara, on August 1 during a check presentation at SCCU's Sebastian Branch.
For Charles, who never leaves home without his debit card, the win could not have come at a better time. "The money will come in handy for back to school shopping," remarked Charles.
SCCU hosted the sweepstakes campaign to help raise awareness of the many benefits of debit. Debit cards are more convenient than checks and safer than cash. Debit purchases are deducted directly from a member's checking account, so members can monitor account balances online and easily see how their money is being spent. Plus, SCCU debit card holders enjoy peace of mind with fraud monitoring and Visa®'s Zero Liability protection.*
"Visa is accepted worldwide at millions of locations, but consumers are conditioned to use debit cards similar to a check or credit card, for larger purchases. Our members don't think to use their debit card for small purchases like meals at fast food restaurants; they'll even apologize for not having cash," states Suzanne Kirk, Vice President of Operations. "We want our members to think of their SCCU debit card as their preferred payment method, and use it for all of their everyday purchases."
During the month of June, SCCU had over 93,000 active checking account holders and it processed close to three million debit transactions.

Space Coast Credit Union was chartered in 1951 and is headquartered in Melbourne, Florida. The Credit Union serves over 230,000 members with assets of over $3 billion through a network of 57 branches and over 100 ATMs located throughout Florida and through its web site, SCCU.com. Space Coast Credit Union is open for membership to anyone who lives or works in the fourteen Florida counties it serves. Locations can be found at SCCU.com/locations.
###