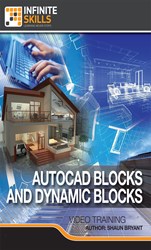 Learn AutoCAD Blocks and Dynamic Blocks at your own pace.
(PRWEB) September 14, 2013
Software training firm Infinite Skills Inc. last week introduced its "Learning AutoCAD Blocks and Dynamic Blocks Tutorial," a targeted course focused on AutoCAD's powerful block command and its applications for speeding up the design process.
The AutoCAD block command allows designers to create and save object groups and styles. In its most basic function, the command allows users to define a selected group of objects as a block, for instance the chairs in a classroom, and then re-apply the block in as many instances as necessary.
However, there are a variety of advantages in AutoCAD blocks beyond this basic function, including applying attributes to blocks and working with dynamic blocks, that make it an valuable tool for AutoCAD designers, especially those working in a company environment.
Infinite Skills' "Learning AutoCAD Blocks and Dynamic Blocks," offers a concise and focused exploration of how to use this powerful feature to increase speed and efficiency in the design process.
Learning AutoCAD Blocks and Dynamic Blocks Video Training
Course author Shaun Bryant is a training consultant with 20 years of hands-on experience as an AutoCAD user in civil and structural engineering practice. He has worked for Autodesk in sales support and training, and is currently an Autodesk Approved Instructor, holding AutoCAD 2013 Certified Professional status. Bryant currently provides AutoCAD training and consultancy professionally.
Following a brief introduction to how blocks can be used to distribute content, Bryant begins by explaining how to set up blocks, exploring the BLOCK command, as well as working with objects, behaviors, and settings.
The course then covers block attributes, going in-depth with the ATTDEF command, and moving on to managing, finding, and extracting block attribute data. Bryant then continues with chapters covering how to edit blocks and block attributes, before looking in detail at working with dynamic blocks.
"In this course," Bryant says, "I teach you how to increase your efficiency with AutoCAD by using blocks and dynamic blocks. Blocks are a great feature that allow you to be more productive, quicker, and smarter, in using AutoCAD."
Free demo videos and a full list of course contents can be found on the Learning AutoCAD Blocks and Dynamic Blocks training page of the InfiniteSkills website:
http://www.infiniteskills.com/training/autocad-blocks-and-dynamic-blocks.html
InfiniteSkills offers its Learning AutoCAD Blocks and Dynamic Blocks either as a DVD or a direct download from the company website at a retail price of $24.95. Though the compatibility of programs varies, all InfiniteSkills titles and formats are compatible with both Mac and Windows operating systems, and shipping is available around the globe. Additionally, InfiniteSkills tutorials are supported by project files which correspond to examples in the videos.
About Infinite Skills Inc.
A leader in the field of software training, Infinite Skills designs its courses on a task-oriented model, teaching complex skills by providing hands-on examples and guiding users as they carry out essential functions. Infinite Skills offers a wide range of software titles available as DVDs, digital downloads, and in iPad editions. Infinite Skills now offers a subscription service, providing access to all its training content for a monthly fee, keeping with company's aim of delivering professional training to customers anywhere they want to learn.